'Charming, lively evening filled with wine and flavour'
With the guidance of chef/co-owner Brodie Meah, I finally begin to understand the allure and excitement of the natural wine movement.
In cosy, candlelit surroundings eight minutes' walk from Arsenal station, we embark on this exciting journey, which is not for the fainthearted, teetotal or those on a budget.
Top Cuvée, which opened nine months ago, is comfortably full of chattering locals – also, a nice smattering of families considering the wine-heavy ambience and small plates that don't feel like they'd do much to satisfy a famished eight-year-old.
The space is small but not crowded, stylish but not pretentious and comfortable without being overly casual.
The real focus is the wide selection of wines, primarily sold by the bottle. These don't come cheap (averaging out at around £30) but the attention to detail – the restaurant only stocks natural, organic, biodynamic and planet-friendly wines – makes this an interesting destination for oenophiles and eco-warriors alike.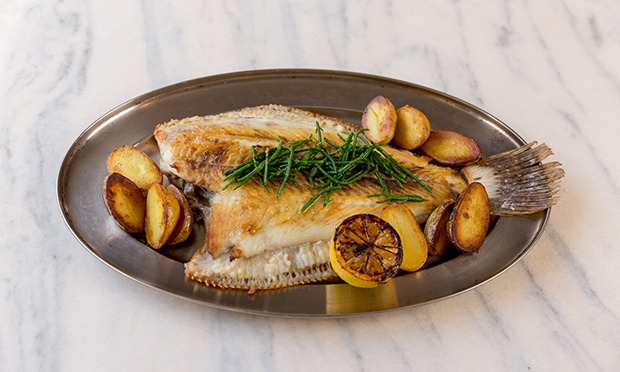 We start our liquid adventure with a Le Mazel Cuvee Charbonnieres, a glistening cloudy wine, almost orange with a tart but refreshing edge. Organic and out there, this was a brave start to the evening.
Following this was a rabbit terrine with homemade soda bread, perfect for soaking up the booze, and a warming and stodgy beginning to the evening's food.
Next, a Dijon potted beef with pickled beetroot arrived that was rather dosed in mustard. If you are an aficionado, then make a beeline for this! Slightly over-spiced for my tender little taste buds but definitely a culinary slap in the mouth snapping us back to the task in hand.
Brodie, our teacher, healer and wine guru, suggests a Gewurztraminer Steiner Pierre Frick 2014, a biodynamic wine, bold, bright and delicious, all exotic fruit and spice. Lovely.
As we rest, over comes a plate of rather dull wild mushrooms with a soft egg that was the evening's only real disappointment.
It is quickly followed up by a perfectly cooked sea bass which makes up for any feelings of deflation. With capers and an uplifting sauce, all the joys of a glass of wine and a richly flavoured, well cooked fish flood our mouths and hearts.
An evening dancing between drink and food is an evening well spent I say.
A sumptuous glass of Pierre's Sauvages moves us nicely onto our last savoury dish, a bavette steak with a lovely lemon flavoured salad, simple to get right but very effective.
Finishing the evening off in style and wine-induced warmth, we pounce on the plate of old Winchester cheese and sticky toffee pudding.
The cheese, flavourful and arresting, and the sticky toffy pud bring back all the saccharine memories of family dinners at my grandmother's.
The cheese is served with a quince marmalade that (the friendly and attentive waiter Raff informed us) was from a local called Don who came around with a box of quinces from his garden – take that, gentrification.
The whole process is a long affair and designed around the consumption of the array of wines available.
Although the evening will set you back a pretty penny, the friendliness of both the waiters and Brodie himself puts even relative wine newbies like myself at ease.
For a charming, lively and informative evening that happens to be filled with wine, I can't recommend Top Cuvée enough. Cheers and bon santé!