'Lavish, beautiful and devilishly funny'
In the mood for a sumptuous ballet? Craving feathers, frolics and frantic movement? How about this year you give the Bolshoi a break and dive into a double Olivier Award-winning show that will make you laugh?
Matthew Bourne's classic The Red Shoes returns to Sadler's Wells for the third time, and all we can say is thank you.
Based on the 1949 film by Michael Powell and Emeric Pressburger, which itself is based on the Hans Christian Andersen fairytale, this piece overflows with a love of theatre and dance and is full of Bourne's satirical and playful magic.
The story itself follows a classic tale of love versus ambition within the ballet world – with some fancy footwear thrown in.
Victoria Page (embodied beautifully by Cordelia Braithwaite) must choose between the seductive power of the red shoes, the key to fame and fortune but with a darker side, and her own down-at-heel lover.
The story is not new and could come across as rather prosaic if it wasn't for Bourne's ability to craft humour through dance.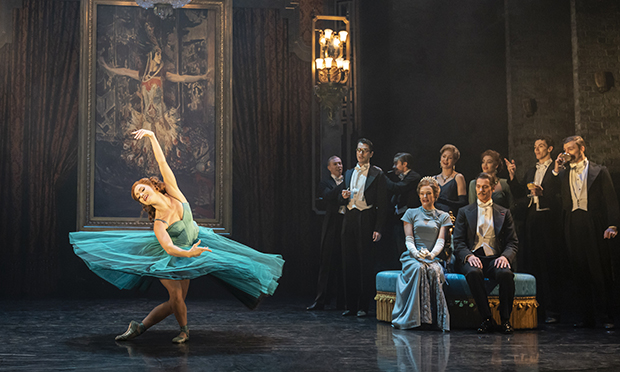 Capturing the backstage life of a touring ballet company, this play within a play blends lavish beauty with devilishly funny detail.
It has the opulent costumes and classical ballet for your fuddy-duddy uncle but provides flashes of disruption that will keep your intimidatingly trendy younger sibling engaged throughout.
The cast is uniformly excellent.
Braithwaite pours a brittle tremulousness and a deer-in-the-headlights naivety into the role, mixed with grace and strength.
Both her lovers, Julian Craster (played by Dominic North) and the obsessive impresario Boris Lermontov (Adam Cooper) bounce off one another and Braithwaite.
Together they create the tragedy of this age-old love triangle, while somehow keeping it from feeling stale.
The ballet company, New Adventures, is confident and bold, embodying the music and demanding choreography and allowing a warmth to pervade every step and gesture.
Still set in the 1940s and 50s, Lez Brotherston's costumes and staging are period-appropriate as well as expressive and symbolic.
By crafting heightened costumes for the Mise en abyme sections, the Russian-doll charm is highlighted.
Brotherton's set is clever and versatile. Give me a pirouetting, floating proscenium arch with a Wagner curtain and I'm satisfied – see, it doesn't take much!
The Phantom of the Opera aesthetic is strong, and this is even more impressive considering the lack of many large set pieces, apart from the aforementioned floating frame.
Paule Constable's lights are faultless (as always).
The swelling music of long-time Alfred Hitchcock collaborator Bernard Herrman gives a futuristic yet very 50s feel and draws in the cinematic references that are needed for the piece to feel genuine.
Poking fun at a genre while simultaneously being very much within it is an impressive tightrope to walk, but The Red Shoes does it boldly with an arch smile.
Dancers spring through the air with unimaginable grace while smoking, corpsing faces are pulled at the audience and the rotating stage lifts the curtain (quite literally) on the ephemeral and contradictory nature of the theatre world.
The show basks in all the complexity, mirth and heartbreak felt by anyone following their dreams.
It reminds us that we all have our own pair of red shoes, our own demons and desires, our own choices, just waiting to make their leap.
The Red Shoes by New Adventures runs until 19 January at Sadler's Wells Theatre