'Exceptional dance company conjures up myth and magic'
With the swirl of glittering saris and four female musicians crafting a numinous atmosphere, the audience settled down for an evening unlike any other last month.
The Darbar Festival celebrated its 14th year, and its third annual residence at Sadler's Wells Theatre, championing classical Indian dance.
The all-male Bharatanatyam ensemble, the Temple of Fine Arts, gave a performance enriched by something more akin to religious fervour than cold creative professionalism.
Blending the Indian story of the Ramayana with the south-east Asian story of the Ravana, this mix of old and new, different perspectives but with a shared cultural language of movement, proves spectacularly effective.
Marvin Khoo's choreography is clear and expansive, allowing even those unschooled in Indian mythology to clearly recognise sections of the story.
The dedication of the performers sets this piece apart – it is more a beautiful endurance test than a dance.
Clad in wrapped trousers of red fabric with bare chests and painted hands, the dancers never get a moment's break. No cheeky off-stage breathers here, no lazy background arm work as the lead puts in the hard yards!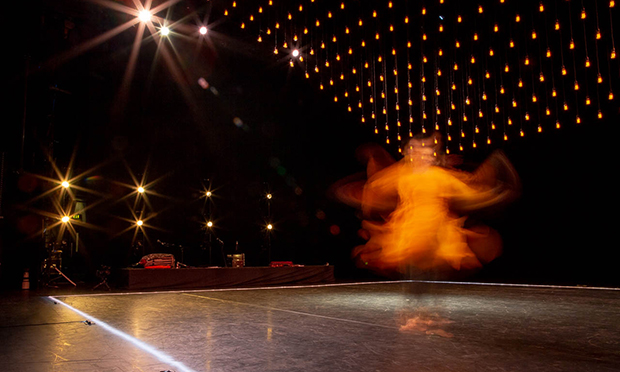 The cast is constantly moving like the beautiful coils of a snake, embodying the elements of fire, water, ice and rock in various sections as they split into various patterns.
The stark contrast to western dance forms is most clear in the expressive use of the eyes and face.
A piece about a demon should be terrifying and exhibited facially but most western dance forms – looking at you, ballet! – provide a frozen visage.
Not here, where darting eyes, tilted heads, stamps from bell-covered legs and spinning red palms create a style using the whole body and soul.
Leaving the stage bravely bare, the creative team frames the show with hundreds of hanging, exposed light bulbs.
Giving the piece its space and not overcrowding it with tech is a gamble that completely pays off. This is not a show that needs razzle-dazzle, as it has its own ancient charm.
Dripping with sweat, the dancers never let off, dizzying the audience like layers of dropped silk fluttering through the air.
The traditional spiritual Bhajan hymns sung and played by the cross-legged musicians at the back conjure up myth and magic so rare in a cynical and modern theatre landscape.
The famous choreographer Akram Khan, whose company works with the festival, introduced the evening, explaining the importance of showcasing this art form.
This system of movement has been around for almost 2,000 years, predating all formal western dance.
Never have I felt more connected to the never-ending flow of time when watching the mesmerising movements of this most exceptional company.
Marvin Khoo & Temple of Fine Arts performed on 25 November as part of Darbar Festival 2019.