'Who better to trust with French food?'
The vista is everything, as the decor is a little disjointed. Real and false plants rub shoulders, and wood panelling produces a sauna-like feel.
Émilie takes us under her confident wing. With passion and a thespian panache, she explains the dishes, leaving me salivating before we even get to the starters.
There is the classic mains/starters divide, and the menu is built for sharing. Be ready to order quantities, thankfully at standard bistro prices, so not too taxing on le wallet.
The starters twinkle like a set of rainbow gemstones. As advised we bite into the melted hearts of the Camembert croquettes, oozing out cheesy glory with a red wine and cranberry sauce – what a pairing. Fish cakes crunch and succumb, with an addictive Marseille aioli. The gravlax is a little dull in flavour, although the colour is a beautiful phosphorescent pink. The one dish that I wish could multiply is the pork and pistachio terrine, with a mango sauce and cornichons. Firm, fastidious and fabulous.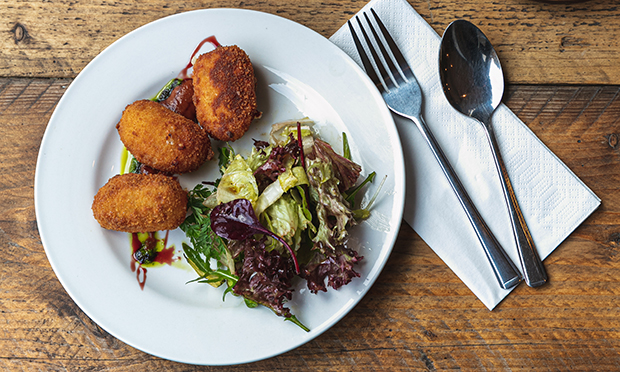 As the chef slaves away in the tiny visible kitchen, we watch Stoke Newington flicker into quiet life as the street lamps illuminate the park.
No time for hovering. Vous pouvez m'apporter le plat principal s'il vous plait?
Hearty and wholesome are the names of the game. Pork meatballs (family recipe) with a tomato and basil sauce that dreams are made of, with a liberal serving of sourdough bread. What a dish – massive soppy sensuous balls (oh, vicar) totally charm us. Though they should be pretty blooming charming at £17 for three. We also have a Merguez pie, which is basically (don't shoot me) a Shepherd's Pie dressed up for a night out in Paris. The addition of aubergine and black olives adds complexity to the flavour. This rustic wonder is built for a broken heart or a cold winter night.
A rather cold Baba au Rhum is more fun to say than eat, but the Muscovado creme brûlée more than compensates. Smooth as the devil, with a brittle crust as fragile as my self-esteem, this dessert deserves a title.
After opening in their present location two years ago, the team has weathered the destructive winds of Covid by selling wine and food to take away – bringing in more customers in the process. It is nice to hear of someone doing well out of the caca-storm.
The staff are experts, the food and wine excellent, and, as long as you can brave the metal coffin they call a toilet, be prepared for an exceptional evening.
Lay back, and let Émilie and her team guide you, for who better to trust with French food than real-life flying French men and women!