Arcola Outside
'A riotously good show'
Reminiscent of the Italian piazzas where the style of
commedia dell'arte
 spawned 500 years ago, the new spiegeltent of the Arcola Theatre restages the 18th-century classic, 
The Game of Love and Chance
. 
Royalty, romance, and the classic rotating doors promise an evening of high class and earthy humour.
Pierre de Marivaux's 1730s play is hustled (rather uncomfortably) into the 21st century by Jack Gamble and Quentin Beroud.
Featuring the archetypal characters of this ancient Italian comedy style, there are battles aplenty between masters and servants. Throw in endless pandemonium ensuing from the switching of societal roles and you have yourself a farce, friend.
Despite the rather repetitive wrangling of love and the misty relevance to modern life, the piece is a riotously good show.
What sells this comedy is the actors, because the plot is the thematic equivalent of pulling petals off a daisy and repeating 'He loves me, he loves me not'.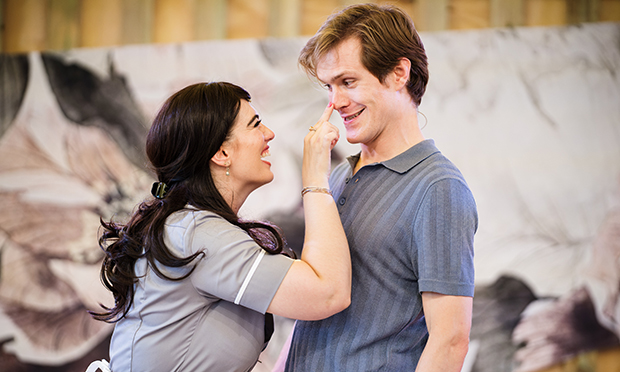 So, our light shines on Ellie Nunn, playing the tempestuous Princess Sylvia. Despite a particularly dreadful wig, she abounds with comedic timing and theatrical vitality. A Pippa/Poppy/Duchess of Cornwall hybrid, she dominates the action, casting long shadows left, right and centre. Nunn is skilled in the sometimes bumpy breaking of dialogue to whisper an aside, and the 18th century rambling and self-justification. We doff our hats to you madame!
Michael Lyle, playing the servant Harlequin in disguise as his master, is equally energetic and able to breathe some modernity into the bawdy humour. And George Kemp as Marius, once warmed up, shows a flare for comedic melodrama.
Overall, the ability across the board is high, treading the difficult line between comedy and chaos, believability and caricature with enthusiasm.
The outdoor element and cacophonous sounds of bustling Dalston fit in well with the theatre-for-the-people ethos of commedia. Yet the background music feels rather random – a little like a party playlist on shuffle.
The show's erotic humour and farcical plot are amusing, but one wonders what recontextualising it for the modern era has to impart to an audience? The views on class, love, and relationships are still solidly in the 1700s, and without the period props and embellishments, the sentiment feels supremely dated.
Nevertheless, the twisting games of love are enjoyable to witness, and I only hope we don't take this air of subterfuge and trickery home with us to our waiting partners, pets, or houseplants.
The love of 1730s France very rarely sits comfortably in 2020s Dalston.