Tempted by the warming fumes of an old-fashioned English roast but put off by the senseless slaughter of innocent animals? Hold my almond milk latte, The Spread Eagle in Homerton has you covered my conscientious friend.
Having opened in 2018, London's first fully vegan pub bucks the trend of plant-based restaurants in the city (big buzz but no longevity) and there are a good many reasons why.
Housed in a stunning old East End boozer on Homerton high street, the decor embraces the pub's rich history. A deep blue wash on the walls with eclectic details and kooky artworks staring down at you blends perfectly with the Victorian stained-glass skylight. A warm and welcoming environment to get nicely soused on a Sunday afternoon, surround by happy people, early 2000 tunes and doggos.
Yet the elves have been busy as plastered everywhere you look over this tasteful palette is tinsel, presents hanging from the ceiling, candy canes, and paper bunting. You wanted festive? Well, here it blooming well is!
On my visit before the Tier 3 and then Tier 4 Covid restrictions were enforced across London, elegant Ellie explains the Christmas cocktail options and I swiftly polish off a boozy hot chocolate with a choose-your-own spirit (Frangelico thank you, because I am a child) – similar to a choose-your-own-adventure but for adults, and involving a lot more losing of house keys.
Eventually, when my dinner guest arrives gracefully late, I conclude it would be rude not to have another cocktail to welcome them, no? We both go for a smoked pineapple Cosmopolitan – a touch tart but as refreshing as the spitting day outside.
Like the Bechdel test (but for food), my French dinner companion is classically hesitant of veganism, a new and worrying trend that hasn't entirely reached mainland France yet. I dive for the pot roast celeriac and potato crackling. The celeriac is a little slimy but mimics the fleshy pork as well as a vegetable can.
Steaming across from me sits the resplendent walnut and cashew nut roast, thankfully an oozing block of flavour wrapped artfully in a leaf. Meaty, monstrous portion size and moist, what more could you want? As with any roast, it is the trimmings that make the experience so wholesome and the cooked veg is as you would expect – crisp magnificence. The potato crackling is excellent and the sauces authentic. The whole affair is almost indistinguishable from the murderous original. Cauliflower cheese as a side although looks the part fails in the complexity of mimicking cheese (a very hard task).
A Beet Wellington is brought for us to sample and, again, although looking like a more vibrant version of its carnivorous cousin, the taste of beetroot is a little overwhelming (real fans only need apply) and the after-effect is a little claggy.
Two amaretto sours are needed to quench the mouth after the carbohydrate carousel, and into the puddings we plunge.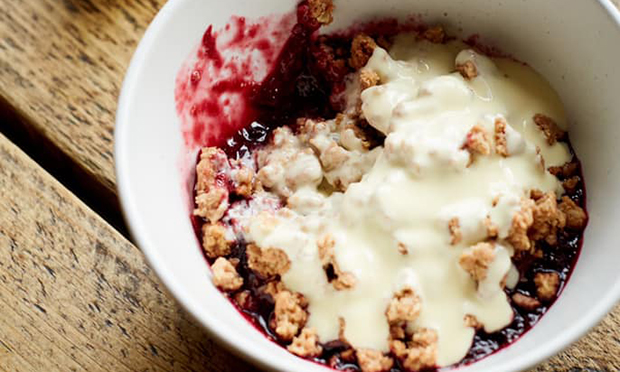 My friend's plum crumble is a little disappointing as the issue lies with the tasteless crumbs (quite important in a crumble). But I would not change a thing about my saint of a dessert, the heavenly sticky toffee pudding. Normally not a massive fan of ice cream, this vegan imposter is a shapeshifter with impressive dark arts.
Ellie is clearly trying to butter (or the vegan alternative) us up as she suggests a Mescal sour, and we (ever polite) agree. The smoky mix of the Mescal with the sour lemon and sweet undercurrent wakes us both up out of the Sunday snoozefest that was descending.
Long gone are the days of sludgy grey lentil dishes. The Spread Eagle is now almost an elder statesman for the modern vegan movement, proving that today's vegans really can have it all – apart from good imitation cheese, apparently.
We are catapulted into the drizzle warm, stuffed and cheered immensely, proving to these two converted carnivores that there there can be roast without the ruthlessness.