'A celebration of local culture and resilience'
This wish was partly answered last year with Social DisDancing, performed at Sadler's Wells Theatre in early December, before Covid restrictions tightened and then tightened again. The show is a whistle-stop version of a festival that normally lasts two full days, and is so much of an overload that I battle with my editor over the word limit.
Rapper, poet, and showman Jonzi D, vibrating with happiness, welcomes us, having spent the summer curating a digital show from his balcony. A quick rap – "Social distDANCE may attract attention, let's start Breakin' Convention" – and we're off!
A.I.M. Collective, a local group of female popping dancers with energy and style by the pound, performs Suspended. Shawn Aimey's choreography is imaginative and through three clear gear changes (and one costume change) we move through a trajectory of isolation, community, and finally a jubilant 90s-themed dance-off. Movement filled with life to the very brim.
Next, Jonzi D explains that the stage is being cleaned because of you-know-what – sounds a bit like 'noted' – but the festival cleverly takes this time to show the hard-hitting film Can't Kill Us All, produced by Far From The Norm.
Olivier winner Botis Seva, Breakin' Convention regular Ben Williams, and the composer Torben Lars Sylvest team up for a stylistic and beautifully shot exploration of Black masculinity and isolation. Focusing firstly on the back of Seva's head, the film builds, juxtaposing tender interaction between a man and his childhood self. Wild, up-close dancing shows his grapples with anguish and despair, something that many have battled with while in lockdown. Yet, like hope flitting up from Pandora's box, the film ends on an uplifting note with a monologue from a mother to her beloved child.
Onto the freshly gleaming stage, the O'Driscoll Collective slide forward with their piece One%, an atmospheric take on B-boy. The piece is a battle between two male dancers, Jamaal O'Driscoll (also the choreographer) and Marius Mates. Moments of tender and ferocious connectivity are set to a discordant jazz/techno soundtrack, with the lighting really bringing a sense of emotion to the duet. The piece draws you into its world and, although physicalising inner turmoil in a duet is a little overdone, the pulled-back use of this normally bouncy dance style is transfixing.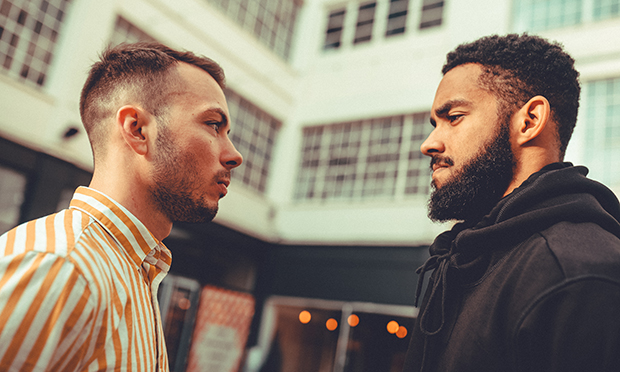 The whirring buzz of stage cleaners is drowned out by another film. This time three dancers from across the world, Nafisa Baba, Bolegue Manuela, and Axelle 'Ebony' Munezero dance in black and white to Jonzi D's poem Our Bodies Back – a heart-wrenching and rightfully angry poem about the rape, incarceration, and mutilation of Black bodies.
With Jonzi D speaking before about the political and social upheaval of George Floyd's murder and the Black Lives Matter movement, the film underlines Breakin' Convention's ongoing dedication to be a political force for change, using art not only to entertain but to fight injustice. The piece does this while still managing to revel in the beauty and strength of Black women, and it's utterly transformative.
Lastly, it would not be Breakin' Convention without resident dance crew Boy Blue, who bring their piece Untethered 3.0. Using lighting to maximum effect, the dancers start under a swinging bulb, repeating this wonderful convulsive shimmy with heads down. What follows is a tight mix of styles with a focus on krumping. Two soloists in dark maroon shirts lead the charge and head the many changing shapes. Always intense, always dramatic, Michael 'Mikey J' Asante's thumping soundtrack and Kenrick 'H2O' Sandy's ever-shifting choreography keep us on our toes.
Towards the end, when Jonzi D explains that the O'Driscoll Collective are "all the way from Tier 3 and that's as international as it's going to get", it could be seen as a moment to mourn. Breakin' Convention is usually filled with acts from "around the world and round the corner", but with this year's show necessarily narrower in its reach, perhaps it's fitting to see it as a celebration of local culture and resilience.
Every act showed what the struggle of 2020 was like for them, and the overarching message is of hope and a renewed faith in humanity.
Just try watching Jonzi D find words that rhyme with Covid as the audience slowly files out is sure to bring a smile to anyone's face.