'Important but at times formulaic examination of Black masculinity"
A lively youthful crowd rustles semi-patiently. The buzzing Yard Theatre is late again. But what we witness is worth the wait – an exploration of Black masculinity and the unequal weights the world loads on individuals.
Lanre Malaolu has done it all – film, theatre, choreography, and writing, with a focus on melding movement and dialogue.
SAMSKARA is a series of monologues strung together by choreographic snapshots and some nice group work thrown in for good measure.
The writing is poetic and believable, crafting larger-than-life characters that make sense.
Scrutinising the different roles forced on Black men in England, by their community, family, or society as a whole, this piece's content is paramount.
The examination of the armour worn by these men, and the difficulty in tearing them down, proves for a heavy-going evening, but one that penetrates those watching. Nods of agreement, murmurs, tears, and the occasional supportive outburst fill the chipboard ring of the theatre.
Yet some structural issues dissipate this message somewhat.
Paaliba Abugre cavorts athletically around the bare set as we walk in. A ring of dirt keeps him trapped. This silent spinner bookends each of the character sections, but sadly his choreography (although spirited) is the weakest link of the piece. It feeds into a larger problem with repetition, arguably the enemy of good theatre.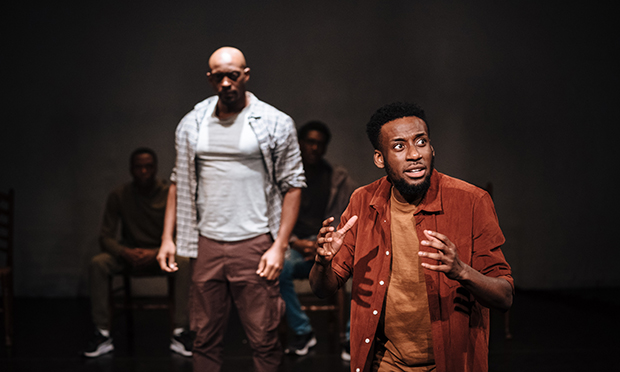 The piece becomes rigid and over-formulaic as Abugre draws the characters up, they give their personal stories, he pulls it from them and dances a loosely themed dance around that. Again, each character starts a monologue with a repeated phrase to pull them into their character after multi-rolling in the last monologue. Firstly, this need not be vocalised, and when it is, it feeds more fire to the smouldering predictability that runs through the piece.
Nevertheless, Malaolu has brought some furiously talented men to show the many shapes of Black masculinity.
Ntonga Mwanza is the comedic relief as a rebellious roadman, hands shoved in his underwear, all swagger, battling with an absent father (Mwanza is also a very passionate krump dancer).
Oliver Alvin-Wilson is the strongest actor, although not by much because the standard is stratospheric across the board. His backward glancing examination of the older generation's experience of racism in the UK, and his appraisal of his own life, is heartbreakingly hammered out. His crumbling shield is a beautiful piece of performance.
Will Atiomo and Razak Osman both struggle with the idea of family and their role within it, giving us a more contemporary perspective.
Throughout, Yahael Camara Onono gives a variety of percussive accompaniments, driving the piece onwards like a war dance, building momentum and pace. The importance of having an all-Black cast tell an Black story is never lost, and these men standing tall is a memorable image.
Highlights are when the group comes together with forceful movement. The crescendo also, using the dirt, crumbling it off each other's bodies like the outer casings of the world being stripped away.
The final jubilant dance when they can stand, free of racist, hereditary, collective or personal impediments, is uplifting but loses some of its punch due to the lack of brevity.
There is gold in these hills, but without a sense of the unexpected, the journey to find it can be rather tiring.