'I'm now a full-blown Weller wannabe'
Looking every inch 'The Modfather', Paul Weller, standing in the Barbican's echoey foyer, introduces us to an evening of himself.
Weller, who shot to fame with bands The Jam and The Style Council before shining as a solo artist, looks as cool as ever, with impossibly straight white hair cropped brutally at his shoulders.
The BBC Symphony Orchestra sits framed by hanging studio lights, with a few of the fairy variety twinkling overhead.
Weller, now seated, explains he's going to sing "songs from a different era and some from a different decade". And off we swing into 'Andromeda', with a lovely depth provided by the orchestra.
'English Rose' is where that raspy quality of Weller's voice comes into its own, and the added tonal variety of the BBC SO is astounding. I swear, if they accompanied my local rubbish truck as it wakes me up at 8am every morning, I would not even mind.
Jules Buckley's arrangement is understated throughout, allowing Weller to remain the focus, but enhancing rather than smothering his music. 'My Ever Changing Moods' has a soulful addition of trumpets, and in 'On Sunset', the light switches to only the fairy lights, creating a surprisingly intimate moment in the cavernous hall.
The camera keeps panning to the unsung hero of the evening, a flute player with one of the best moustaches alive! Considering the flute-heavy arrangement, we keep getting close-ups of this most expressive musician.
'Carnation' changes the visuals again to blues and purples, and although not one of Weller's best songs – any la-la-la-ing is a no-no in my book – aesthetically it is stunning.
'Glad Times' is amplified again by some delicate use of the strings, with a lovely orchestral build to the chorus.
Enter James Morrison in a silk shirt looking devilishly handsome. Weller switches to the piano and Morrison's classic bluesy, raw vocals fill the stage. With a similar tone to their voices, the harmonies are a little clumsy, with unfortunate father/son talent show connotations. But when they alternate verses, the skill of these performers is clear.
My favourite song of the evening by far is 'Gravity'. Just Weller and an acoustic guitar for most of it, it is a lovely contrast to the bigger band numbers and showcases his true genius for songwriting. "Gravity, it follows me" – clever, wistful, and unpretentious.
Our next guest of the night is none other than Boy George singing 'You Are The Best Thing'. Looking a little like a stylish version of the wizard from Oz, his voice is smokier than I remember and has definitely improved with age. His hands flutter as he sings. "Being friends from way back when", the pair make a harmonious effect.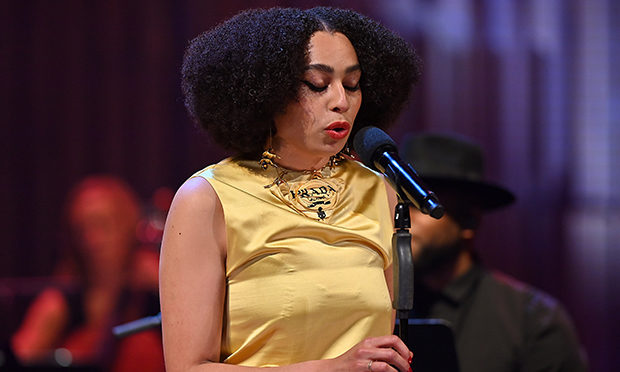 The last guest of the night is the up-and-coming singer, Celeste. A vision in a yellow Prada dress, with flowering silk roses at the bottom, heavy eyeliner, and gold buds blossoming from her ears, she gives us floral LIFE! Her wailing vocals and diminutive stage presence is all part of her very cool charm. The saxophone-heavy song fits both her and Weller's vocal tones. A divine and memorable addition to a very male evening.
Before the last song, Weller and Buckley talk about their meeting – "it was the beginning of a cool friendship" – before turning to football chat, which may as well have been a foreign language (for me).
Finishing with 'White Horses', we get a sombre and dreamy end to the evening.
My only issue is that technical problems caused me to miss around 15 minutes of the show in total. But the Barbican team has swiftly recognised this, apologised, and have extended the watch-back option for another two days.
Weller is a star for a reason, giving voice to the everyday. He is a prestigious talent and has found equally talented people to share the stage with him, bringing new facets to his already multifaceted oeuvre.
I started the evening a Weller-neutral, and now I'm a full-blown Weller wannabe (watch this space as I dye and straighten my hair to within an inch of its life).