'Ballet is back and in a big way!'
Sadler's Wells flings its doors wide open, with a little queuing and NHS QR-coding first of course, and welcome us back with a joyful compilation of new choreography and gifted dancers. What better way to kick off a summer of optimism for the theatre industry?
The five pieces are unconnected and differ in almost every way. Although each piece is imaginative, danced to perfection and unique, some stand out more than others. Perhaps after a year of isolation, loss, and financial worry we are a little misery-ed out?
The vibrations from the audience (and myself) are noticeably palatable for two of the vignettes. Unsurprisingly these are the lighter ones, flavoured with irony and comedic flair.
Arielle Smith's piece Jolly Folly is an exuberant take on silent films. Eight dancers in penguin suits leap and goof around the stage, injecting sass and beauty into choreography that pushes the boundaries of ballet. Being the last piece, it is energising and by far the most out-there.
The Klazz Brothers/Cuban Percussion's jazzy and playful interpretations of Mozart, Strauss, and Tchaikovsky help to create a mood of almost ironic fun-poking at classic balletic fare. Yet within the laughter is some taxing choreography pulled off by some very accomplished performers. Who said ballet was stale? Certainly not Smith!
Cleverly top-and-tailing the evening with Jolly Folly is the first piece by Stina Quagebeur, an ENB dancer and choreographer, called Take five blues – again a standout. The eight dancers in shades of blue silk start in silence, promenading around each other. The piece is lively and passionate, embodying the whole ethos of an evening billed as "the pure joy of dancing".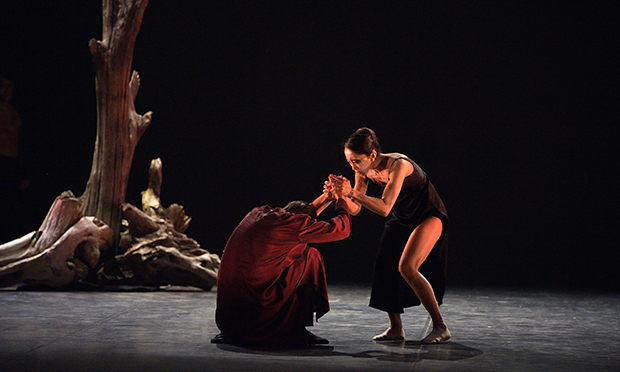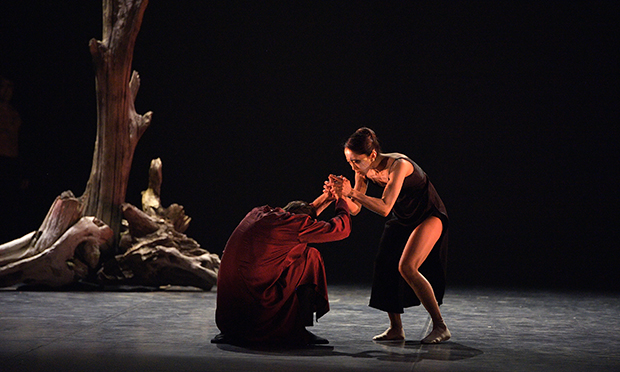 Although the set is rather cheap-looking with Ikea lamps suspended from the ceiling, the focus is on bending the rules of ballet, all while keeping the energy flowing and not taking itself too seriously.
Some sections are inspired by country music, with flares of jazz and a spirited crescendo bringing images of a very athletic and graceful barn dance.
Following this is Laid in Earth, choreographed by Sidi Larbi Cherkaoui. Despite Purcell's aria Dido's Lament being sung exquisitely by mezzo-soprano Catherine Backhouse, the piece is a little self-involved. Visually stunning, with a towering sculpture of deadwood, the four dancers look like drunken gods at some Bacchanal in matching red and black silk. Their semi-exposed bodies writhe and undulate impressively but the overly serious faces feel rather forced after what preceded it.
In the same vein, Russell Maliphant's piece Echoes is in inky darkness. His use of light (so often ignored in dance) is refreshing. Video artist Panagiotis Tomaras creates a hypnotic band of moving lights, informing and guiding the movement of the seven dancers. Dama Fouras's soundscapes are brooding with a lovely call and response between a single violin and an oboe. The dancers swish around the stage in large samurai-looking trousers, with rare moments of elevation. Well danced, and visually absorbing, but again rather self-aware.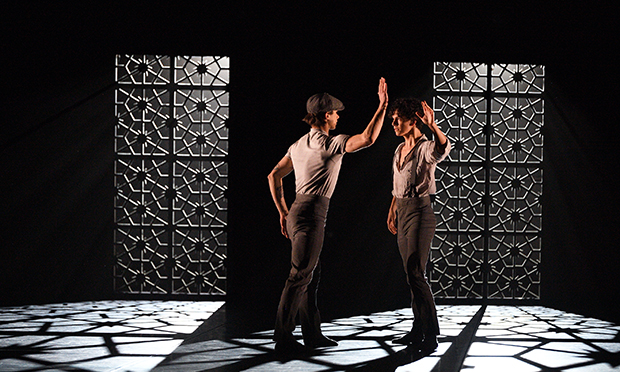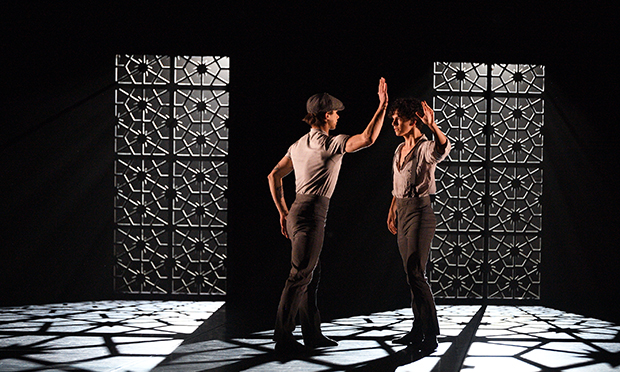 Yuri Possokhov's piece Senseless Kindness is a first in many ways. It is the first time the choreographer has worked with a UK company and it's his first attempt at using music by Shostakovich. Four dancers in 1930s costumes do their best with the demanding choreography and music, but the score has all the difficulty expected with Shostakovich's work. Like a demented ghost, the piece erupts into pain and anguish only to break into a jovial sense of hope. The use of light beaming through broken windows breaks up the two duets nicely. The piece is stimulating but it feels like the music is dictating the movement instead of a collaborative effort.
Before each piece, a video screen descends from the ceiling for a little chat from the dancers and choreographers. Normally I dislike unnecessary exposition but for once it was uplifting to see the joy in the eyes of those involved talking about dancing again.
Despite the varying styles, emotions, and genres explored throughout the evening, the shared love of dance can be felt, pulsating from all involved.
Ballet sure is back baby and in a big way!