'Poignant journey from misery to hope'
Considering that these movements were written just after the tragic death of his young daughter and two years before his own death from a heart condition, neither I nor my pet are sure we are ready.
Conductor Sir Simon Rattle welcomes us from the Barbican conservatory, explaining that the small size of the London Symphony Orchestra is down to Covid's ever-disruptive march.
Glen Cortese's arrangement allows for this pocket-sized, yet still stage-filling, incarnation. The song cycle consists of five sections of similar lengths and a final, meatier crescendo.
The soaring voices of Magdalena Kožená (soprano) and Andrew Staples (tenor) dominate the evening as the only singers. In the expressive mother tongue of Mahler (German), they give life to mythical Chinese poems.
Each piece is fuelled by a different colour and flavour, a different mood, like shifting silken scarves blowing in very different winds.
'Das Trinklied vom Jammer der Erde' (The Drinking Song of Earth's Sorrows) starts with an explosion of sound and life – beautiful leaping clarinets frolic with our ears. Rattle's hands move like a very stylish Gandalf weaving unseen spells. Staples's voice has such tone and power, unlocking the hidden meaning in the words. The line "Dark is life and death" sticks with me – hardly an optimistic omen, is it?
Next, 'Der Einsame im Herbst' (The Lonely One in Autumn) gives us our first taste of Kožená's stunning vocal abilities. A slow, sombre beginning features a lamenting call from the oboes, which is then picked up in airier tones by the flutes.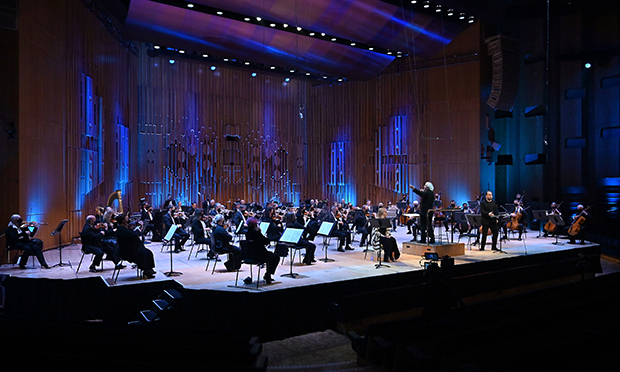 Kožená stands chic in a dark dress, with a cardigan that would look lovely on my sofa, all geometric patterns and flowing sleeves, though coupled with Staples dapper black suit, the whole affair is a touch funereal.
Kožená's vibrato is sublime. Bringing herself up to her full height, she towers with hands wide, encompassing the empty space around her.
Yanking us out of our gothic revelry, 'Von der Jugend' (Of Youth) and 'Von der Schönheit' (Of Beauty) are bright and bubbly. Both singers feature, and the overall effect is as naive and hopeful as one would expect from the titles.
The simple lighting throughout is at points a little obvious, such as a pink flush during a section about young love.
The next song title feels like a personal attack as I clutch my wine to my chest – 'Der Trunkene im Frühling' (The Drunkard in Spring). However, the bucolic scenes so beautifully sung about are rather squandered thanks to the futuristic Barbican setting, masks, and plastic screens. The line "What to me is Spring? Leave me to be drunk" resonates on a worryingly deep level.
Finally, we gear up for the last piece, 'Der Abschied' (The Farewell). This is all darkness and misery, but beautiful. Expert use of silence and suspense along with the low muttering of the strings creates a cinematic feel.
This ending is by far the most passionate, dramatic, and structurally interesting. The use of a gong paired with the Chinese flute is a little on the nose, but Kožená's dying words, "Forever, forever", repeated over and over again into the theatre, are a crashing end to such a range of pieces. The silence of the empty auditorium and the dazed looks of all involved are fitting.
Despite some rather obvious Asian motifs, the poems translate wonderfully into German and both singers pour their souls into the score.
The London Symphony Orchestra is swift and uncompromising and captures each emotion gently in their capable fingers. Another glittering feather in the cap of the Live from the Barbican series, the journey from misery to ecstatic hope is poignant in light of recent events.
From a dark place in his life, Mahler created something earth-shatteringly beautiful. This phoenix metaphor has to bring a smile and a tear to even the most life-worn of digital audience members, as it certainly did for me.