'Thrilling, inquisitive and well-acted'
Who is safe? How do you know? What if you're wrong?
These are the questions at the centre of Gut, Frances Poet's thrilling four-hander, performed by recent graduates of the Guildhall School of Music and Drama.
The drama follows Maddy (played by Sophie Doyle) and Rory (Mackenzie Heynes) as they raise their three-year-old son Joshua in the age of Saville and Weinstein.
Poet's writing is razor-sharp and questions modern morals while avoiding black and white simplicity.
Mental illness, distrust, heartbreak, doubt, and pain? Sign me up!
Maddy, the uptight but devoted mum who spirals out of control following a lapse in judgement from her mother-in-law, proves that love can drive the most heinous acts when children are involved.
She is a slap-up meal of a character, one that Doyle feeds off with energy and skill.
The creeping damage that doubt can do to someone's mental health is portrayed nicely by Doyle, as is the overall sense of dread.
Heynes provides a more muted and far more relaxed Rory, but is clearly at home on stage, especially with such a meaty role.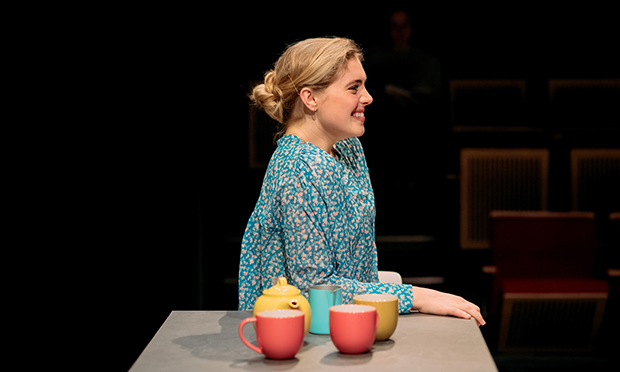 Top of the class is Bella Maclean, who has the hard task of playing Rory's mother Morven.
Maclean breathes kindness and wisdom into a role that could easily have fallen into overacting and fluffery.
A lovely power struggle between Maddy and Morven encapsulates both the skill of the actors and the writing, as personal borders are drawn up over cups of tea.
David Buttle mops up all the other characters with a versatile skill for accents.
Louie Whitemore's set greets us, bare and stylish – perhaps a touch cool for the domestic drama but functional.
The choice of a traverse stage – similar to a fashion catwalk – is perplexing, as even for fully professional productions it can be jarring for the audience and difficult for actors.
Nick Peel's lights, on the other hand, shine (obviously) with a cinematic style, giving the play a slick flow.
Despite some slightly odd directorial choices from Kate Budgen, like projecting a video of a random child as the finale, the play is quick, inquisitive and well-performed.
What an exciting first step into the world of theatre for these actors, and one they should be proud of.