'A beautiful parable for modern times'
Dappled light breaks through the boughs of a large oak tree, down into a sad-looking garden that fills the stage at the Almeida – the first and last image of Mike Bartlett's returning 2017 play Albion.
A lot has changed politically since then, but the star-studded, topical and subtle questions of the piece stay with you long after the lights and the tree disappear into the black.
Audrey Walters (played by Victoria Hamilton) should rightfully take her place among theatre's greatest and most conflicting female protagonists.
Her almost dictatorial obsession with restoring a garden from her past brings up flashes of Violet from Tracy Letts' August: Osage County, as well as hints of Githa Sowerby's Rutherford and Sons.
This expensive and divisive garden is the setting for a family drama so filled with symbolism that it's hard to pin down everything that makes this story so great.
More than a Chekhovian battle of the individuals, the play competently encapsulates the rise of nostalgic populism in the current political climate, taking the 'personal is political' train of thought and pushing it to its fullest reach.
But enough airy-fairy-off-with-the-concepts talk, this is theatre, and theatre has nuts and bolts.
The machinery of the show is gloriously delicate and effective.
Bartlett's writing is pertinent and clipped, quotable and clever. It is quintessentially British but questions the classiest politeness we all exhibit without meaning to.
"I had feelings for you at the time, but then I got to know you" is a wonderful example.
Rupert Goold's direction is formidable, getting the best out of a cast of very strong actors, weaving comedy, tragedy, song, and sound together with great skill.
Miriam Buether's set – real flowers but sadly not a real giant oak – is gorgeous, and the changes the garden goes through are spun into magical sections of physical movement, potting and unpotting the plants.
Neil Austin's lights are also naturalistic, capturing the changes in time of day and the seasons with a precise eye and believable palette.
Gregory Clarke's choice of Nick Mulvey's 'Cucurucu' as the soundtrack for the planting sequence is inspired, and overall his decisions are fittingly resonant.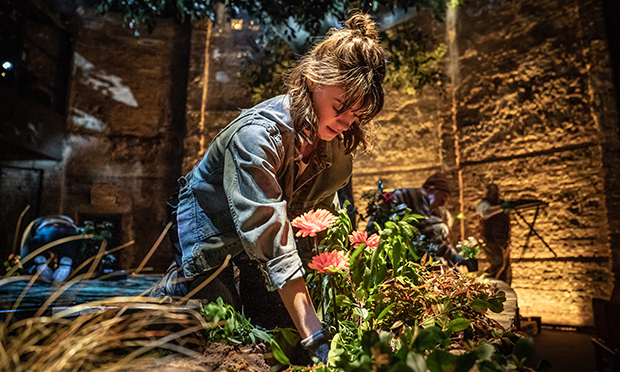 Performance-wise, its 10s across the board.
Keeping up with Bartlett's fast and dense dialogue, and somehow managing to keep the space feeling new, everyone helps drive the action.
Hamilton shines as Audrey in a role she was born to play – battling the world, her family, the loss of her son and herself in a desperate attempt to restore a garden that symbolises a lost past and an uncertain future.
In the process, she alienates her own family and almost everyone in the surrounding Oxfordshire countryside. If self-sabotage is your thing, you will absolutely love Albion.
The joy of watching the strong fall never fails to entertain.
Daisy Edgar-Jones simmers as Audrey's slightly aimless daughter Zara and Donal Finn breaks our hearts as the bright but thwarted window cleaner Gabriel.
We have expansive but jaded writer, Katherine (Helen Schlesinger), who questions and undermines our poor lead, and an Uncle Vanya-style husband Paul – hopeless, hilarious and brilliantly embodied by Nicholas Rowe.
Angel Coulby's depiction of Audrey's son's grieving partner dominates the end of the first act, delivering a sudden punch to the gut and allowing the British bickering to fall like dead leaves and expose something painful and tender.
Every performance is layered, and this builds up into a show without a single chink in its armour.
The family flow in and out of the garden, reacting to, rebelling against, hating, loving and resenting Audrey.
This swirl of people with their hopes and dreams leave delicate questions, about self, country and the past, floating in the air.
What do we share? What do we own? What really is ours?
When talking about the garden, Audrey's neighbour say there is "nothing left in the end, but money, always money".
Although a depressing sentiment, the garden, in both its triumphant rejuvenation and its barren neglect, is a beautiful parable for the times we live in – complex, troubled, but always hopeful.
Albion runs until 29 February at the Almeida Theatre