'Dishes that will astound a jaded London palette'
Surrounded by shabby chic furniture and kitsch details, bathing in warm candlelight, we were ready for a trip of culinary discovery in three-month-old restaurant Bong Bong's Manila Kanteen.
A calming wash of eggshell blue soothes us as we prepare to make our first dive into Filipino cooking, and what a refreshing dip it was! Just around the corner from Cambridge Heath station is Bong Bong's, we are welcome by one of the co-owners Sinead Campbell.
I started with a punchy dark and stormy cocktail while my partner enjoyed a pina colada that avoided any sickliness.
We relaxed on the long homemade communal wooden tables. The canteen vibe is as clear as the name suggests, so if rubbing shoulders with your fellow diners isn't your thing, there are more conventional tables for larger groups (you unfriendly monster).
We asked recommendations from our friendly waiter Mike as both of us were blissfully clueless.
All the food arrived in a flurry, and the feast before us was beautiful as it was daunting.
We picked, plundered and prowled, nibbling sections from each dish in an orgy of flavour and satisfaction. Fingers fly over hands; dishes are passed and repositioned, and the dance of shared food begins in all its messy glory.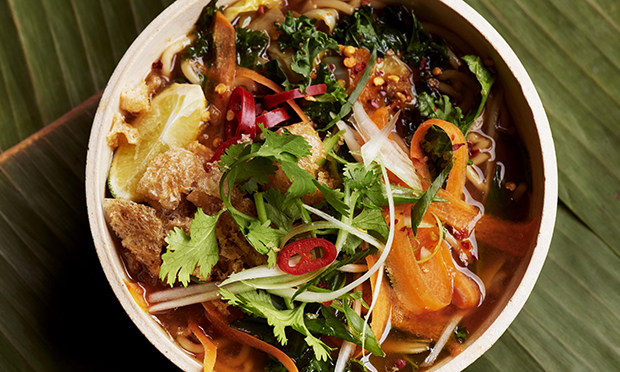 The stars of the evening are surprising ones. Grilled cauliflower in an abodo glaze (a native sauce that has spanned the globe, now with Spanish, Portuguese and Mexican variants) is an explosion of flavour more akin to a meat dish, with a crunchy yet succulent texture (vegetarians, head straight for this!). For you carnivores, there are chicken wings in the same sauce, although not quite as delicious as the sublime cauliflower.
The second surprise, and just in time for Valentine's Day, is duck hearts on skewers! Just as romantic and tender as you would imagine.
Vegans look away but is there anything more magical than tucking into the heart of an animal while gazing into your partner's eyes? Chewy meaty goodness in bite-sized portions, lovely.
A bavette steak sat on a bed of juicy spinach was a fresh and delightful experience. Crispy shallots and soy and a lime kick? Utterly wonderful.
Each dish mixed with the jasmine rice to create an amalgamation of interesting and unusual flavours, and with the selection of food it was hard to keep up with what I would enjoy next.
With such high standards set by the lion's share of the dishes its only human that some might fall in comparison. The crispy pata, an impressive-looking pork hock, was a little heavy for my taste, and although the spiced liver sauce was an unpredictable hit, the overall effect was a little weighted. The turon, a battered banana with cinnamon and ice cream, was a slight let-down too.
After chatting quickly with Sinead and fellow co-owner Lee Johnson, the story and passion behind this food-truck-to-brick-and-mortar venue is inspiring.
After scooping up funding, under their previous name BBQ Dreamz (thank goodness for the change),  from BBC Two's Million Pound Menu, they've created a friendly atmosphere coupled with very reasonably priced dishes that astound the jaded London palette.
It is a marvel and I hope they become an institution in the local area. I will certainly be returning, if only to try the Sunday finger feast that is the kamayan. Intrigued? Well, you'll have to pop along and find out for yourself.