'Soaring highs and plummeting lows'
A small walk from Old Street Station we slide into the soft lights and subtly buzzing techno murmur of Barboun.
Expanding from their petite but popular Soho venue Hovarda, Hus Vedat and his team have opened an all-day Levantine beast.
With a feeling of an upmarket hotel restaurant Barboun is chic and simple. Scandi wood that gives a futuristic Star Trek feel is offset by lit columns in organic browns and whites.
Real olive trees sit at the back of the restaurant and the whole place hums with subdued conversation.
Don't bring a gaggle of drunken friends basically, but dig out those gladrags and be ready for an evening of unpretentious elegance.
We are informed that the mains are meant to be shared along with the starters, and the more the merrier for me and my gluttonous appetite.
Worry does begin to creep in though, as at these prices one hopes that there is enough to share.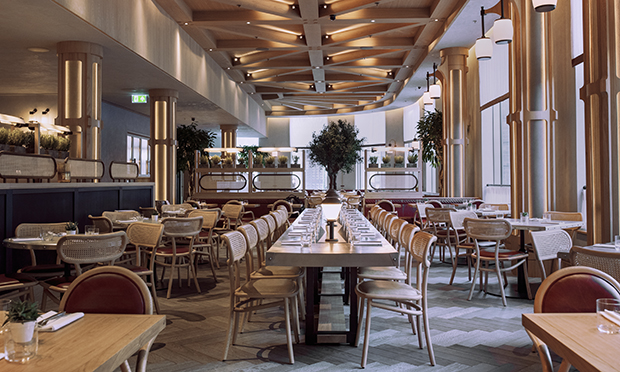 We start with two glowing cocktails, I opt for a DÜSHESH, a lemony creation with Riesling wine and, most shocking of all, a lemon sorbet plonked in the middle, complete with a tiny spoon for tucking in. Maybe a touch gimmicky, and perhaps a little sweet for a first drink, but I am grateful for it later.
Despite the slightly stifled atmosphere, the whole room is filled with the saliva-producing smells of wood fire and cooking food, which makes sense as that's the focus.
We scan the menu and dive into the various options, but we note the rather lonely looking vegan dish in the mains section and the lack of any among the starters. This is not the place for your next PETA meeting but that's unsurprising really.
Humus arrives at a leisurely pace and is wonderful, drizzled in paprika oil with crispy onions.
Two prawns sidle onto our table next, with a green chermoula paste that just doesn't work with the succulent cooked flesh. The prawn's grilled flavour was enough on its own.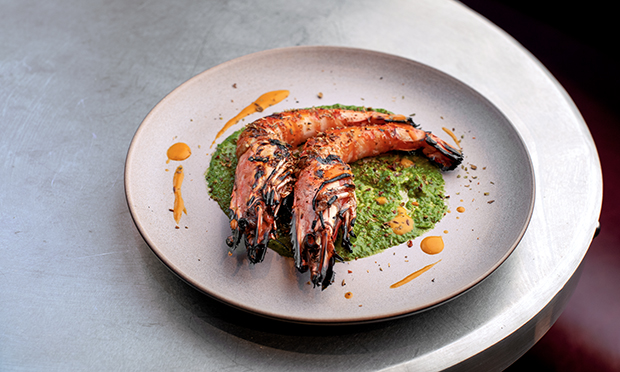 A plate of doma swoops in to save us from the dreaded green sauce – sun-dried aubergine with a sour cherry and garlic yoghurt that I would happily drown in.
In this city, there seems to be an unreasonable prejudice against eel, and although the jellied form is not my favourite, we must drop this fruitless vendetta and enjoy the tangy goodness of this most flavourful fish.
Served with a creamy split pea and carob molasses mash, and caper leaves with light echoes of their buds' tartness, it's a novel and interesting dish. Another pro-eel establishment. Free the eel, I say!
As I dipped into my melting cocktail, I was rather glad for the sorbet as my mouth had been on a wild and rather conflicted journey.
Despite feeling rather silly spooning ice cream from a martini glass, the concept was not as useless as it first seemed.
Two lovely white wines were suggested by our expert waiter and we both thrust our beaks into a Greywacker sauvignon blanc, spanning my palette nicely, along with a biting Domaine Vrignaud chablis. Well paired for the upcoming mains.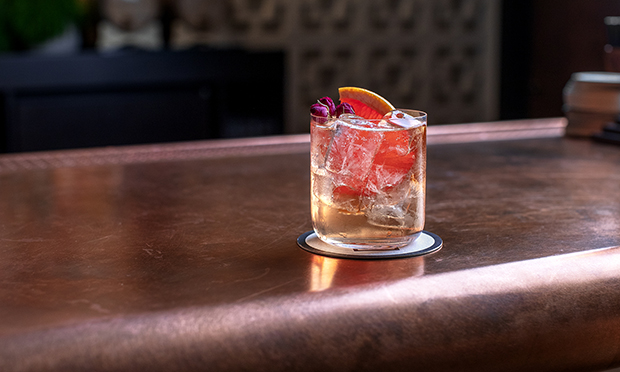 We were apprehensive and a little excited, but what arrived was by no means the best part of the evening.
A rather bland chargrilled chicken, nicely arranged on a bed of blackened sweetcorn, is first. Not outstanding, unfortunately.
A sirloin steak follows – something most people would consider rather hard to share – and is plain at best, with a bitter zhoug paste that gave nothing to the flavour of the meat.
The Yemini sauce can be delicious and versatile, but it didn't work with the rare steak. The vague Anatolian spice did little to help the dish either, and the ancient grain mujadara we chose as a side – a mix of lentils, onions, and barley – was nothing to write home about.
After a disappointing main course, we finished the evening with a dependable baklava dripping with honey and a date cake as rich as a prince.
Full and conflicted, we sat back and gazed at one another and then the menu.
With everything being on the expensive side, some of the starters at £12 and some of the mains closer to £30, Barboun is a splash-out venue.
The place is beautiful, cool and refined, so it's just a shame that a lot of the food doesn't quite match up.
With soaring highs and plummeting lows, the overall effect is confounding.