'Cuban dance troupe at its eclectic best'
Carlos Acosta (CBE don't you know) and his company Acosta Danza's meteoric rise from their inception in 2016 is as impressive as it is hard-won.
Retuning to Sadlers Wells after a world tour, these four eclectic pieces exhibit the very best the Cuban troupe has to offer.
Acosta himself performs in the final piece, Rooster, but the wide range of choreographers, performers, music and dance styles blend to create a lyrical approach to movement.
The show starts strong with Satori, choreographed by Paul Reinoso, an almost religious abstract piece using the dancers' strength and futility along with heavy tech to marvellous effect.
Dipping in and out of a floating canopy (not unlike the parachute games I am sure some of you remember from primary school), this piece is beautifully daring.
Pepe Gavilondo's thumping visceral score informs the stark movements of the dancers.
The sense of sexuality is shown in the bare-chested dancers' unashamed use of the human body, free from prudish limits.
It also introduces us to Zeleidy Crespo, who I will never stop going on about, a dancer as rare as a diamond and just as enduring.
Her height, shaved head and dynamic movements dominate any piece she is in, and she enthralls throughout.
Flowing costumes by Angelo Alberto highlight the contrast of the dancers' erratic movements with layers of fabric lighter than air, flowing like leaves on a wild winter's breeze.
Keeping that momentum going would be a challenge, so the performance cleverly does an about-turn in following Satori with Paysage, Soudain, La Nuit.
Pontus Lidberg's choreography is sweet and pure, allowing this group piece to shift in impossibility light bright fabrics – Karen Young is to thank for the threads.
The performers frolick in a bucolic setting, with Elizabet Cervino's gilded fields of barley in the background.
Lidberg is undoubtedly a master and it shows in a piece overflowing with youthful energy.
Mixing the traditional rumba of Leo Brouwer with an African theme, the dancers move like dunes of sand, layering in impossible patterns only to morph again in another slide.
Light, hope and laughter embodied in movement? It's hard not to be impressed.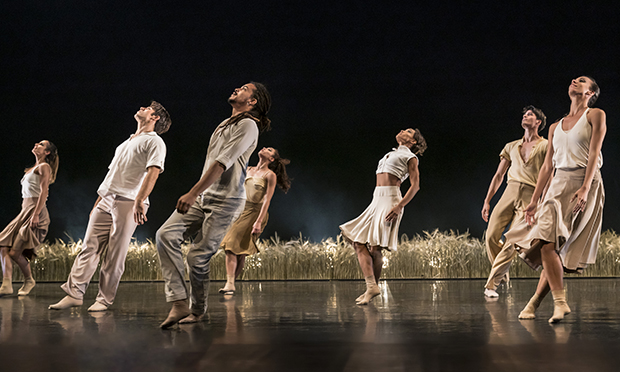 Next, Faun not-so-shyly explodes onto the stage.
Based on Claude Debussy's lyric poem Prélude à l'après-midi d'un faune and the subsequent ballet by Vaslav Nijinsky, Sidi Larbi Cherkaoui churns this classical score with additional music by Nitin Sawhney.
Cherkaoui is true to form in the creation of a duet both mythical and utterly modern.
Crespo steals the show once more, mixing in the animalistic with a deeply connected idea of courtship.
This piece sees the dancers twisted around one another like tendrils of ivy, effortlessly creating shapes with their bodies and exploring one another physically.
The thick woods on the back wall create a soft mossy setting that with the choreography morphs into a nightmarish vision of the classic Greek myth – more Pan's Labyrinth than Ovid (yet somehow still effortlessly sexy).
The evening is set to end on a high with Christopher's Bruce's almost 20-year-old piece based on the music of the Rolling Stones, Rooster.
With Acosta making an appearance on stage, the anticipation is high, almost too high.
The dancers, looking like they jumped out of Carnaby Street circa 1969, look the part and the battle of the sexes between the male bravado and the female disinterests is a lovely shot of humour.
But this piece comes across as platitudinous within an evening filled with such complexity.
The movements are very Fosse-esque and although wonderfully danced fail to land.
For a finale, it was rather a bum note despite the wonderful soundtrack.
Nevertheless, Acosta Danza proves once more that it is a company set apart from others, showcasing the heritage of Cuba.
The company breaths life, artistic sense and curiosity into everything it touches, adding bravery, a dash of humour and a heavy dose of the sex.
I look forward to their next offering with raggedy breath.
Acosta Danza: Evolution runs until 23 November at Sadler's Wells.