'Classic family drama is given a good shake'
Exploding out of the maelstrom that was Russia in 1910, Maxim Gorky's political play Vassa manages what many plays try so desperately to achieve – to transmute a complex cultural message but stay entertaining.
With enigmatic performances and a very clever adaptation by Mike Bartlett, the classic Russian family drama is given a good shake.
Following the disintegration of a merchant clan, this dark comedy almost falls into the classic domestic squabbling of later playwrights.
What sets it apart from, say, Arthur Miller's All My Sons (also interested in the darker side of capitalism) or Tracy Letts' August: Osage County (also focusing on a tyrannical matriarch), is the underlying political lens that Gorky is so well known for.
This prevalent message of the warping power of greed transforms all the human interactions into strange almost Brechtian caricatures of humanity.
Mike Bartlett's brilliant modern adaptation allows this piece to ring as true today as it did in 1910 – a time riddled with corruption, capitalism and nepotism.
The action follows Vassa (originally Samantha Bond but due to injury played by Siobhan Redmond) trying everything in her power to hold onto her family's business.
Constantly telling herself the old lie of the merchant ruling class: she is doing it for her children.
She undermines, betrays and deceives her children who "somehow" become a constant disappointment to her.
It is not a new story, and like Violet in August: Osage County, the contractions of a strong mother in a deeply patriarchal society are present. But with the flare and bitterness of the writer, the inevitable decline is refreshingly depicted.
Bounding around a 70s-style wood panel study, the action spills in and out of the room, people constantly listen at doors and the sounds of Vassa's husband dying overhead can be heard for most of the first two acts.
Considering Gorky's complex relationship with Chekhov, it's not surprising that this interest in life off stage is present. Also, the demands made by both playwrights on their actors are equally high.
The cast deals with the surrealism very well.
Both of Vassa's sons, Pavel (Arthur Hughes) and Semyon (Danny Kirrane) exhibit the belittlement by their mother very well and provide comedy and tragedy in equal measure.
Seymon's wife, played by Kayla Meikle, gives quiet strength and simmering cunning.
Sophie Wu's Lyudmila (Pavel's unfaithful wife) burns with boredom, naivety and passive cruelty.
Amber James as the older daughter Anna tempts the audience into comradery but proves to be as selfish and immoral as the rest – this arc is laid out perfectly by the actor.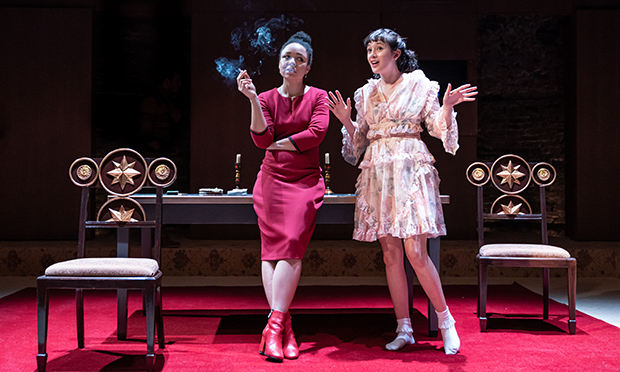 Everyone else within the cast provides the necessary snappy characterisation and solid believability that makes Vassa entertaining and unsettling in equal measure.
Disappointingly, the role that should be binding everyone in a vortex of cruelty and distrust, Vassa herself somehow doesn't land as well as it could (perhaps due to the sudden change in actress).
Redmond looks the part, all spidery grace and tough movements, and when interacting with servants and advisers, she is appropriately regal, mean and firm.
But the performance lacks the emotional depth needed to humanise the character and in the end the breakdown, as she undermines her own family, repentant in her victory, flounders.
Racing along at a terrifying speed, Vassa is as disrupting as it is funny and this piece sings with topical hints and magical one-liners.
Tinuke Craig's direction allows for the heightened level of reality to flow with delirious results.
Clever, critical and concise, I would hope Gorky would be proud (although I would imagine the ticket prices would make him turn in his grave).
A play from a period on the verge of a revolution that speaks so much to a contemporary audience is a little worrying, but you'll be laughing so hard you'll barely notice that you're crying on the inside, which is nice, I guess.
Vassa runs until 23 November at the Almeida Theatre