'Soul-warming gem'
More than 2000 years' worth of human steps have bustled along the Roman Road. With olive oil coming from Greece and amphorae of wine from Pompeii, this street is certainly no stranger to new cuisines. Now up pops an homage to the American deep south, named after one of its fieriest products.
It is as if one has tumbled headfirst down slick metal steps into a dive bar in New Orleans or Miami; the decor is dark and delightful. The graffiti of music industry greats mirrors the soulful tunes bubbling in the background. An expansive bar swings round, like a perfectly lit Christmas tree, but decorated with liquor bottles. The golden brown of bourbon predominates and fits into the eponymous passion.
Smokey meat and smokey booze are the order of the day, so if that's not your cup of warming alcohol, maybe best skip on down the ancient highway?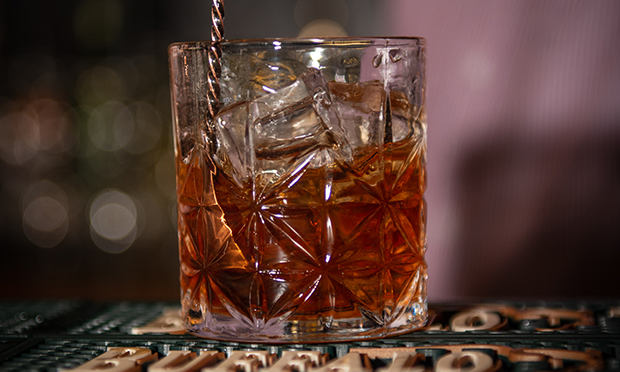 But for us, sweet whiskey-lovers and crispy meat eaters, this place is a pleasure dome. Sam helpfully explains the concept and the inspired Can't Decide Option (a two-person chef selection plate for a very reasonable £22) and we're off in a cloud of inhouse smoke.
Hickory pulled pork blue tacos with pickled chillies and mole sauce are an acid pleasure and give the first inkling of foggy flavours to come. Aioli with Brussels sprouts and homemade bacon chunks are astonishing. Neither I nor my guest are sprout-heads but this honey-infused wonder is an out-and-out winner.
The Can't Decide ticks every box. Dark crunchy brisket, built for dunking deep into pools of BBQ sauce. Meat that slides off the bone in a way that is almost pornographic. Splashes of red cabbage add colour and fermented flavour, and fresh gherkins give a fresh vinegary shot. We try our best with these mountains of food, and the warm, chargrilled platter of carnivorous goodness is picked and plundered to the bone.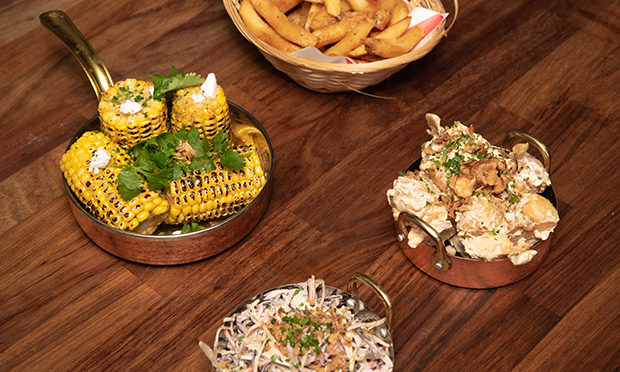 Comforting and unpretentious with a focus on inhouse and local, the restaurant fits right into its Mile End home. It's the barman Dominic's passion that sets this meat joint apart from the crowd. He proudly shows us his own vanilla-infused bourbon (with a real pod in the jar) that tastes like fireball's classier cousin, with fermented maraschino cherries in the throat-tingling Manhattan twisting the classic pornstar to include the much-lauded Buffalo Trace bourbon. Kentucky mules with a gingerbread kick bringing Christmas home early, and sultry espresso bourbon martini gives a nice hazelnut update to the tired old classic. Jack Daniels is a dirty word here, but If you get Dominic started you will leave educated and heavily sauced. His passion is infectious, and his creations delectable, so even a quick pit stop to sample the cocktails is a must!
Lemon tart with meringue shards and doughy stodgy beignets finish off an evening of heavy (but wonderful) food and out-of-the-ordinary drinks.
Having opened first as a takeaway, Sam and Dominic's brick-and-mortar restaurant is starting its fifth month. Classic songs, moody lighting, filling food and drinks made with a visible love of bartending combine in this soul-warming gem: a worthy addition to the road's illustrious history. "When on the Roman Road," we say as we drain another flaming drink and the veil of barbeque clouds and bourbon-induced warmth blurs the evening's corners.