'Tasteful exploration of our capacity for regrowth'
With lockdown stretching onwards into the distance like an unwelcome family car ride, what we need at the moment is something hopeful and uplifting! Something to vary the insipid doldrums of another evening in. How about a film about death? Wait wait wait… hear me out.
Yes, escapism is a tempting solace for these times of trouble but isn't staring the metaphorical bull in the eyes a better option? I'm not sure, it's a genuine question.
Nevertheless, this whole production is very much grounded in the current reality of our world. All shot within the same room, which morphs into a post-party house, an Ikea car park, and a hotel room. The transitions are in black and white with masked crew members setting up the shots.
Close-ups and a soft focus give an intimate feeling throughout. Never is our disbelief suspended by the production but nice details like keeping the Track and Trace poster up, or seeing the camera people reflected in a shiny helmet provides a lovely layered meta angle that deepens the overarching effect.
Some may consider this an impediment to an audience empathizing with the characters but not with these two masters of their craft. Nikesh Patel gives a complex portrayal of a man trying to cope with the death of his partner, his cavalier attempts at comedy as brittle as paper, exposing a raw and ruined interior. The BAFTA-winning Sian Clifford is equally good as his best friend, reeling from the loss of their shared loved one. Her ability of passing emotions, like a cloud darting over a clear blue sky, and focus on believability and underplayed feeling is subtly beautiful.
Together, the actors craft a little world so wonderfully that you almost feel intrusive for watching it – spying on two people so exposed interacting with the gap left by a loved one's death is heartbreaking.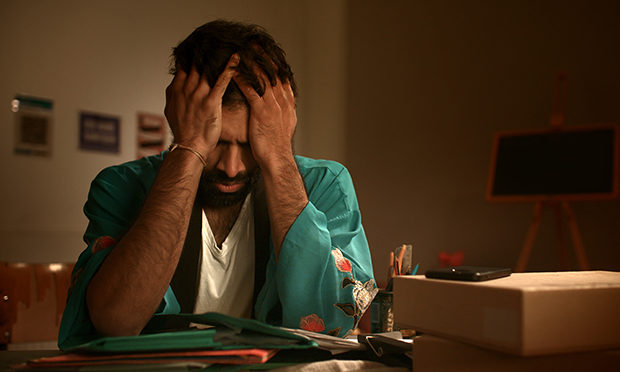 The battle with cancer is at the forefront of this piece in all its monstrous unfairness. But as the title suggests, the humanity and strength (along with surprising comedy) that this can bring is a testament to Lorien Haynes's writing. Lines such as 'I told them it was deeply uncool to steal from a wake' give a flavour of the wordy, sharp, and biting script, which never rests for a second.
Death isn't easy to lighten, but thanks to Haynes and Natalie Abrahami's meticulous direction the whole experience is a tasteful introspection of humanity's ability for regrowth and renewal.
Possessing the roots of an interesting romantic comedy, the lockdown-life details set it apart as a unique piece of theatre/film history.
With a 20 per cent match donation being made to the NHS and Macmillan Cancer Care, this piece is a force for good on every side. Blurring the line between film and theatre, it doesn't pretend to be something it's not. By saving time avoiding naturalistic constraints it can focus on the meaty heart of the story, which it grills and serves with a side of pain and just a sprinkle of sweetness that is undeniably human and delicious.