Barbican
'Bobbing on the waves of theatrical genius'
Whether it be economic depression or a global pandemic, don't we all just want to sail away and fall in love?
Cole Porter's classic musical Anything Goes, which premiered in 1934, runs with the idea and heads straight off into the sunset.
The acidic wit and musical sharpness transports this nautical romp into a sharp and energetic comedy. But putting a personal stamp on a much-performed and beloved musical is tough. This is achieved utterly.
'But how?' I hear you ask. 'Details and casting, that's how!' I bellow back.
Sutton Foster makes her West End debut, reprising the role of Reno Sweeney that won her a Tony for the 2011 Broadway production.
Boy oh boy, does she deliver. She embodies the character so well that we forget she is on stage. She laughs with fellow actors, dances like a possessed spirit, and is every inch the sassy and ironic nightclub singer/evangelist.
Foster's focus on the comedy and less on the sex appeal of the character brings a unique interpretation. Metaphorically and (at points) physically, she grabs the spotlight from other performers. But this is not a diva-like pedestal of a performance. Her interaction with any other actor brings an electric, easy, and ovation-producing performance for both. She gives a tired capital a much-needed two-and-a-bit hours of laughter. Porter would be proud.
Robert Lindsay as Moonface Martin pulls off the American gangster very well and, despite a shaky singing voice, gives some good characterisation.
Lindsay and Foster seem to genuinely love their interactions on stage – the craft of deceit is strong with these two!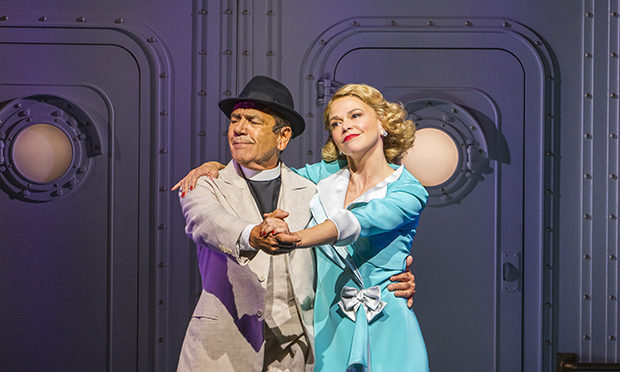 Felicity Kendal as the shrieking lead character's socialite mother is equally amusing. Haydn Oakley as the comedic British lord Evelyn Oakleigh has wonderful comic timing.
The lovers, upon whom this tale hinges, deliver with sadly uneven ability. Samuel Edwards as Billy Crocker has a sublime voice and inhabits the naive heartthrob well, but Nicole-Lily Baisden struggles with making Hope Harcourt her own – though this is challenging as of all the ship's guests she is the most insipid and two-dimensional. Porter can write flawed sublimely, but sweet and genuine always finds him secretly laughing at his own creation.
Standing out, however, as someone who understands the comedic tone of the production almost as well as Foster is Carly Mercedes Dyer as Erma. Throughout, she is engaging and ready with perfect, almost over-the-top mannerisms. The cherry on the top is her materialistic ode, Buddy Beware. This cake is sure to produce paroxysms of laughter in even the most sour-faced audience members.
Derke Mclane's set, although mechanically gifted, is a little flat, with many opening doors bringing a farcical touch.
Jon Morrell's costumes are the slinky 1930s silks you'd expect – beautiful if a little safe.
Kathleen Marshall's directing and attention to detail, highlighting the sillier elements of the musical, put a spring in the step of the old show. Couples switch and confuse one another like a 1930s version of Shakespeare (just with added sailors). Yet the inventive blocking and physical comedy of Marshall have us snorting with unattractive mirth.
Everything feels as fresh as a sea breeze, and with the cast's total comfort on the expansive Barbican stage, it's hard to believe that they do this nightly.
The dances are bouncing and bright, the songs are well known and lovely, and the slapstick is dialled up for a world that needs it.
Instead of binging another true crime documentary or the dystopian fantasy we now call the news, jump on board the SS American for an evening bobbing on the waves of theatrical genius. All aboard!