Barbican Centre
'An evening drenched in nostalgia'
Recently many of us have been lucky enough to sample the joys of restaurants and theatre, albeit tentatively. But the last bastion of normality has alluded us: the gig.
Thanks to the Barbican's brilliant Live from the Barbican – 12 shows, 12 hours, a shed-load of talent – we can return triumphant to this hallowed but very changed experience, whether watching in person or online through a live stream.
And who better to kick this off than The Divine Comedy? Divinely comedic, camp, sharp, kings of reinvention, and a British institution.
Frontman, songwriter, and the only original member left, Neil Hannon is rightfully a legend.
Since forming in 1989 in Northern Ireland, the band has released 11 studio albums, had nine singles in the UK top 40, and one top 10 hit.
Here they give us a taster of their planned five-night residency at the Barbican in 2021.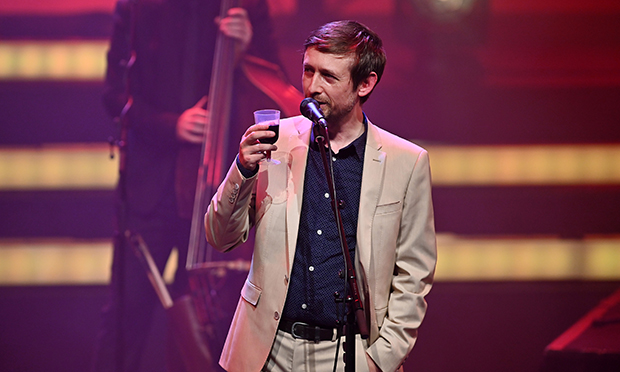 Hannon strolls onto the stage in a delicate white flannel suit, black shirt, and silk scarf, looking every bit the 90s dandy. He's Joined by Andrew Skeet on piano, Ian Watson on accordion (a magical edition), Simon Little on bass, Tim Weller on drums, and Tosh Flood on guitar. The overall effect is rather hip north London dads – decidedly endearing.
Considering their hey day was in the 90s and early noughties, for once I am pretty much the youngest in the room, yet the ravages of time have been sparing on Hannon and the crew.
He announces 'It's a gig!' in his light Irish accent, and we are off into the hit song 'Absent Friends' – very fitting. An evening drenched in nostalgia and appreciation for the music industry stretches before us.
Hannon's voice is as firm and quietly sardonic as it ever was, and his bouncing and swaying movements prove him a gifted if not over-exuberant live performer.
The clever writing he is known for shines through instantly, and one of my favourite lines in all of music bursts into the space: "Oscar Wilde was a lonely child."
The spoken quality of Hannon's voice at times harks back to REM's Michael Stipe, with a dash of David Bowie and the pulse of Madness.
The band bounces through the numbers with confidence born from years of practice, old hats at a game they clearly love.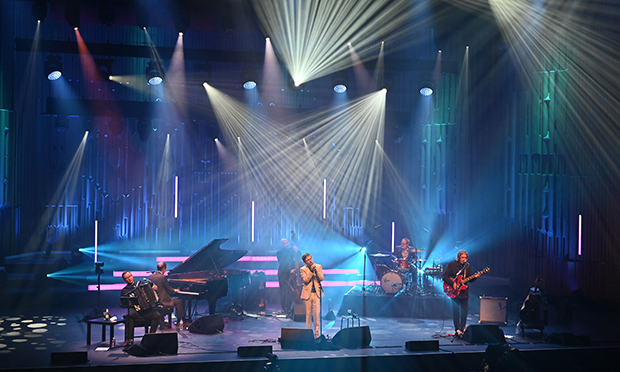 Hannon intersperses the music with concise chitchat and keeps the focus on the sound.
"We're all a little chubby I'm afraid – too much Netflix and takeaways. Now here's a song about a bus," he jokes, showcasing the intellectual silliness that runs throughout his work.
This is the very reason his musical collaborations with TV shows like The IT Crowd and Father Ted make so much sense.
While we are treated to classics such as 'National Express' (the most famous song about a bus company?) and 'Becoming More Like Alfie', they are nicely mixed with songs from the new album Office Politics, Norman and Norma, proving that the band can still release a cracking tune with their signature warm wit.
'A Lady of a Certain Age' and 'To Die a Virgin' remind us of the naughty streak in Hannon's work and the tightrope he walks between serious music and satire.
Storytelling is a big pull for The Divine Comedy, and nowhere is that more evident than in the song 'Charmed Life'. Hannon explains that it was written when his daughter was born, and she is now going off to college, prompting a wry chuckle from an audience who are possibly facing the same conundrum.
Lastly, and almost forgotten from the set, they finish with my favourite 'Mutual Friend', biting and heart-breaking, and a very different feel without the orchestral background.
The gig ends with a beautiful instrumental section as Hannon lies on the floor in rapture.
The band's obvious excitement for playing in the Barbican (or playing a gig at all) and a light political gag about government support of the arts – "Please Mr Johnson, can we have some more" – combines to make the evening a bittersweet experience of memory and music, but with the reminder of modern challenges.
Looking back to 1989 and the very start of things, it's evident in the music quite how much has changed and will change. But Hannon's statement of music being "good for the soul, effing brilliant" is an eternal statement and a hill I am happy to die on.