Chichester Festival Theatre at Sadler's Wells
'Come and revel in the power of love'
The joint rulers of romance, Richard Rodgers and Oscar Hammerstein (the second) are having a mini-revival in the capital.
Oklahoma! is taking the Old Vic by storm, and now South Pacific unloads at Sadler's Wells. Both shows are feel-good hits that have been mired in controversy.
Can the Chichester Festival Theatre's careful restaging balance the ledger and restore this beloved musical in the modern heart?
Conceived in the thick of the pandemic in 2021, the ability of the creative team's health and safety procedures meant that not a single performance was missed. My family gatherings didn't have such good attendance during the same period and there is only three of us, not a cast of almost 30.
Transferring over from a thrust stage to the proscenium arch of Sadler's Wells proves no issue for this expansive piece.
Peter Mckintosh's set makes wonderful use of a revolving bagel shape in the centre (oh we do love a revolve, don't we?!). Corrugated iron lines the back walls, and Howard Harrison's projection conjures up French Polynesia in all its sun-soaked glory. Set pieces are marched on with little fuss and are detailed without being fragile. Despite one instant of a mic-ed stagehand helping with the scene changes (a personal pet peeve) the coral atolls rise in front of our eyes in a cloud of sea spray.
In 1949, South Pacific shocked a segregated American society. Set in the second world war, it discusses the effect of American military stationed in Oceania during the conflict with Japan.
With a strong anti-racist message, the musical is still very much of its time, but it has faced a backlash for stereotypical depictions of native Tonganese characters, as well as the problem of outdated gender roles thrown up by most period musicals.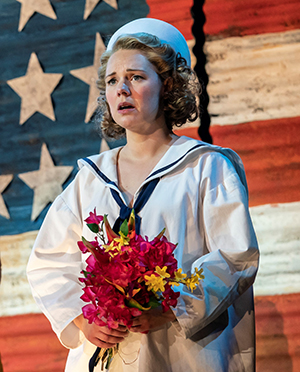 Gina Beck as Nellie Forbush. Photograph: Johan Persson
Director Daniel Evans and choreographer Ann Yee have worked hard to lessen the issues related to the two main non-white characters.
Bloody Mary, played with unique assiduousness by Joanna Ampil, is the first. A wheeler-dealer who, in the past, has been painfully two-dimensional comic relief, has been transformed. She is a hard-working mother doing anything to survive a gruelling conflict. The song 'Happy Talk' becomes an earnest plea and 'Bali Ha'I' a dream of safe haven free from war.
Her daughter Liat (Sera Maehara) has also previously posed an issue, being left in (almost) complete silence as audiences witness her rocky relationship with a lieutenant. The choice to have Maehara opening the show, dancing in the centre of the stage as the overture swells around her, refocuses everything. Maehara's fluid, emotive movement conveys a world of meaning that the character can't express in her non-existent English.
Both mother and daughter are now layered characters, and with this clever bit of subtle reframing, the true message of the show can shine.
The overall message of 'love good, racism bad' might seem evident but was controversial at the time.
Unsurprisingly, South Pacific has enough love flowing through its veins for everyone.
We have Gina Beck playing Nellie Forbush, everyone's favourite scrappy nurse far away from her home in Little Rock. She breathes her own energy into the role, though alternates between a more historically appropriate style and modern belting tone, flipping with mixed results. She falls head over heels for Emilie De Becque, a tortured single parent played with swoon-making skill by Julian Ovenden. Looking every inch the exiled French movie star, his voice is like sweet coconut milk. Ovenden's passable French accent and Beck's genuine warmth make them the picture-perfect couple upon which the tale centres.
On the other side, Rob Houchen as Lieutenant Cable is busy falling for Liat. Houchen's voice is outstanding, and he downplays the modern cringe of the song 'Younger than Springtime' with every fibre of his being. However, all the recontextualisation in the world can't bring this gorgeous but troubling song into 2022 without a reaction (although they do try).
Around these four lovebirds, the chorus of GIs bound about in horseplay.
Douggie McMeekin as Luther Billis rather tumbles over what is asked of him, although is hilarious in drag at the GI show. The big bolshy numbers of 'There is Nothin' like a Dame' and 'I'm Gonna Wash that Man Right Outta my Hair' are rousing. Despite more hard work from Yee, they don't feel much changed. But do they need to be? Now that's a question for the ages.
Against all the odds, the Chichester Festival Theatre has provided another wonderful transfer, and the summer of Rodgers and Hammerstein grows and grows. Carousel next?
This thoughtful restaging has proven a triumph for Evans and his team, and clever casting has given us a star-studded night peeking through the palm fronts.
Like many musicals, South Pacific may feel charming and escapist, but it tackles some difficult themes in the best way they knew back then. This performance helps the show along its way, leading it elegantly into the 21st century with only a few bumps.
Come and revel in the power of love and its transformative effect on prejudice. Meet me on Bali Ha'I beach, where the sun meets the sky (if rising sea levels haven't swallowed it up already).
South Pacific runs until 28 August at Sadler's Wells Theatre in Angel.
For more information, and to book tickets, visit sadlerswells.com.