'A little slice of heaven'
Do you like pizza, hip new bars made from shipping containers, and charming staff? If the answer to any of these is 'No', Hackney Road's brand spanking new pizza joint is not for you!
Having opened just a week ago, Nebula Pizza is pretty much what it say's on the tin – without the interstellar cloud of hydrogen, helium, and other ionised gas, which I assume is just a metaphor.
It is the setting and extras that blast this bar-come-restaurant into the stratosphere (first and only space pun I promise).
Set just back from the main road, the towering assortment of cubes is so new the toilets smell deliciously of fresh paint.
The ground floor is the bar, with a dining area out front and a Moroccan-style courtyard out back, ringed by balconies.
Within the painted black metal freights are marketing companies, tattooists, and a hair salon, and during the day I bet the space is a buzzing hive of fashionable bees.
We plonk ourselves in the courtyard, funk blasting out, feeling suddenly younger and cooler than we have for years.
We are greeted by a procession of friendly waiters, but general manager Sam is the one to chaperone us through the rather selective food menu, and the three-page drinks offer.
This is more a bar that does food, and the cocktails are what draws my eye. Myself, my partner and our dog (teetotal, sadly) allow surprise after surprise to wash over our palettes, each arriving in beautifully adorned glasses.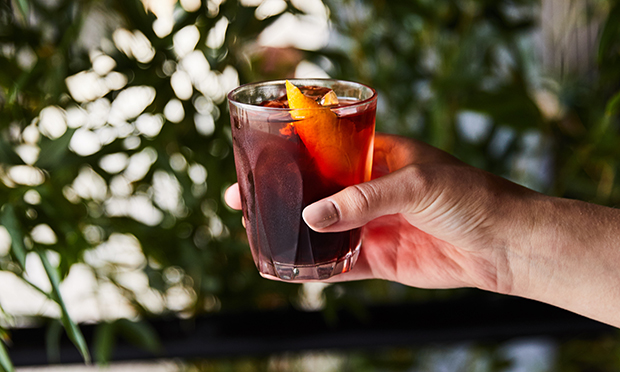 First up is Sammy's Famous Daiquiri, an inventive take on the classic with an added firewater kick that will knock your socks off. My partner's Naughty Boy is a creamy coconut version of the faithful Pornstar martini – I gulp it down when he pops to the toilet.
At eight pounds a cocktail, the taste is complemented by some pretty reasonable pricing.
I guess I should talk about the food too. 'Could one just be a drinks reviewer?', I wonder to myself. Or is that just a rich alcoholic?
First comes the star of the show: the Planetary Pickled Pineapple pizza. Poison to some, perfection to me, a twist on the classic Hawaiian. The pickling of the pineapple creates a more savoury and mature flavour, and the Tabasco sriracha again spices up a pizza that can sometimes feel infantile.
My partner's pepperoni cluster on the other hand was a rather pedestrian affair, neither outstanding nor disappointing. Having said that, the restaurant's pizza oven, which warmed our faces on the way in, means the freshness of the dough is never in question.
With corresponding sriracha, garlic, and ranch dip, we plunged forth with our triangles of dough, neither caring nor noticing that no cutlery was provided (get stuck in).
There is no dessert menu and only one side option. They do have a vegan pizza and dips, which is admirable, and with all the pizzas dancing around the £10 mark, why not get two?
Are we done though? Ooh, not quite. Through our ongoing discussion with the loquacious Sam, we land on a drink, the Pickle-back, and are strong-armed – didn't take much strength if I'm honest – into a tequila shot with the very juice from the picked pineapple that I had just consumed on my pizza. Cyclical dining, impressive huh?
Next it's a Holy Sassy Molassy, which as you would imagine is as dark as the night sky overhead, and a sweeter take on an old fashioned. Served with a refreshing elderflower spritz, we are feeling reanimated as we nibble at the carcass of remaining pizza.
The courtyard reverberates with laughter as the waiters linger at tables making easy conversation. Our puppy gets water and fussed over and the whole atmosphere is utterly cosmopolitan (if that has any meaning anymore).
Flashbacks of Berlin are conjured up by the black gloss paint, booze-laden drinks, and banging soundtrack. The clientele's outfits shift like the silhouettes of colourful parrots against the dark background.
Lastly, we opt for a liquid dessert, the Blendy Wendy. Picture a chocolate sundae created by your alcoholic nan. Sweet, sickly and sensational.
My partner's Manhattan is a metaphorical punch in the mouth, and, like a real punch, signals a perfect time to call an end to the festivities.
Sam explains his vision of many future collaborations with nearby businesses, and the importance of creating a local oasis. "There's no such thing as competition," he says. We need more Sams in this world!
Sourcing locally as much as they can with both spirits and produce, and offering pricing that pulls in people from all walks of life, this place is a little slice of heaven. Safe, fun, and a jolly good night out, unless of course you hate pizza and don't drink.