Barbican Centre
'An unpredictable explosion of creativity'
Can a choreographer's work be effectively understood in a gallery setting? How do you collate half a lifetime's worth of projects in just five or six rooms? And how does the experience fare in the age of Covid-19 and social distancing?
The Barbican's first major exhibition of choreographer and dancer Michael Clark tries to answer these questions with decent success.
Aberdeen-born Clark started to dance in 1975, and has since graced many of the ballet world's most notable venues.
After studying for four years with the Royal Ballet, Clark worked at the Rambert School for Ballet and Contemporary Dance.
His collaborations with fashion designers and bands, and the queerness of his work, shows a side to the British punk scene that has sadly dimished over the years.
The exhibition is covers two floors and offers a sensory overload of which I'm sure Clark approves.
Multiple screens blast snippets of his work, as dancers in bottomless clothes spin around on silver platform shoes.
Sections of spoken word, dark comedy, drag and fashion-forward outfits jump from screen to screen in an acid trip of culture and creativity.
I could spend weeks trying to watch every video to its completion, but life rushes along doesn't it?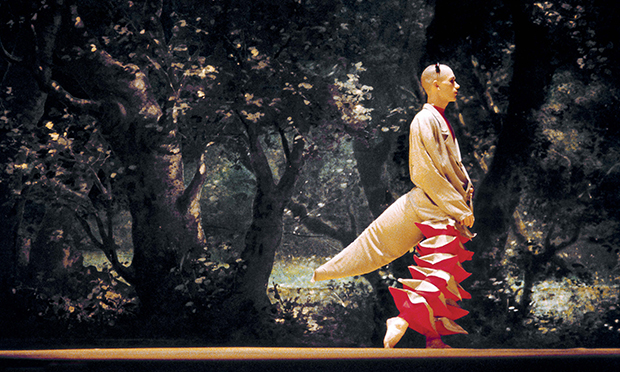 With a good mix of videography on the lower floors and themed artworks on the balcony level, the experience never gets predictable.
Even the videos are placed in such a way that the journey feels varied throughout and, in theory if not in practice, keep groups from bunching up in certain areas.
Viewers idle through the rooms in wonder, masks clamped over our faces as the depictions of freedom and sexuality mock us from the many screens.
Collaborations with the punk band The Fall and their frontman Mark E. Smith in one room feature a giant Styrofoam burgers and fries, with humongous baked beans cans that call to mind Andy Warhol's obsession.
Another room is a black box where Clark and his troupe dance on a giant screen as two huge speakers fill the small space with the aggressive guitars of Black Sabbath.
Throughout the show, Clark's handsome and cheeky smile beams as he explains his work: "I try to make dance that isn't about dance, not just for other dancers to see."
Then on the next screen you see him cavorting in some wild costumes like a Greek satyr or faun, a personality brimming with energy and outside-the-box ideas.
Upstairs is a calmer experience, featuring costumes created for the great drag and art personality Lee Bowery.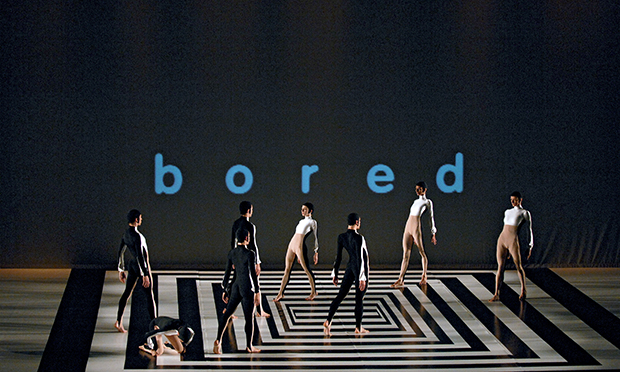 Wolfgang Tilman's photography shows its classic cold-eyed focus, and the pictures of Clark are as shocking as they are beautiful.
Sarah Lucas's sculpture made from cigarettes has a disgusting charm to it, and her headless human torso smoking on a giant slice of bread is a real personal hit.
Smaller TVs downstairs show longer sections of Clark's famous works, such as him dancing Caliban in Prospero's Books by Peter Greenaway, and a hilarious scene in which he is birthed out of a giant egg, dressed as a dinosaur. Visitors are required to bring their own headphones for this room, so don't forget them!
The whole experience is an explosion of creativity, 80s fashion and culture with a who's who of now-famous names just in their genesis.
The talented Clark is at the very centre of this now lost world, from Vivienne Westwood and Alexander McQueen to Duncan Campbell and Sarah Lucas.
The work brings up uncomfortable parallels to our current political climate but keeps the playful and anarchic sense of humour that Clark is known for.
This show underlines his rightful place in the forming of British counterculture.
Within the dance world, you can see the ripples spread out from Clark's work to many famous contemporary choreographers, from Akram Khan to Matthew Bourne.
His ability to assimilate fashion, politics, drama, and art together into a cohesive statement is awe-inspiring, and the hours spent allowing his work to drench over you will not be time you regret spending.
With a career spanning four decades and still going strong, it is heart-warming to see Clark get the recognition his daring work deserves.
Michael Clark: Cosmic Dancer runs until 3 January 2021 at the Barbican Centre, Silk Street, EC2Y 8DS.