'The right food for the right occasion'
Stepping into the cavernous space, relaxed hip-hop caresses your ears. The pub is more industrial squat than Wetherspoons, with massive silver tanks lining one wall. Wood canteen benches fill the main space but little tables and higher stalls ring the plaza.
Maize Blaze is literally popped up in one corner, hidden away in a wood panel kitchen with a serving slot. The terrifyingly trendy bar staff, bearded and bemused, put us at ease. Certainly not your classic restaurant experience. The lack of stiff etiquette is discarded in other places too, with more confusing results.
The food, despite being around standard pub food prices, is all served in takeaway boxes with disposable cutlery. Putting aside the environmental issues (if one can), the boxes are deposited on our tables with little indication of what each one is. Considering the pop-up's vegan/veggie-friendly options, the kerfuffle caused could be a real issue for more fragile dietary diners than ourselves.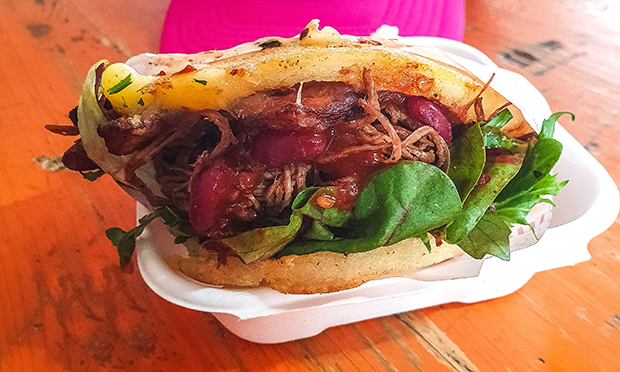 'When in Rome', we say, and point and probe the knowledgeable barman about which local (to this very building) beer we should sample. Being the unimaginative person that I am I go for the Barleypop lager – very light and refreshing. My partner in fermentation goes for Gliding Home, a citrus-infused pale ale. So far, delectable drinks.
The Nachos are an out-and-out winner. None of your dollop of sad sour cream and thinly grated cheese here. We have jackfruit, slow-cooked beans, plantain crisps, guacamole, vegan mayo cheese (with an 's', although vegan cheeze with a 'z' is available too). Perfect for a heavy night draining the silver casks of their bubbling brown contents.
The Colombian Marching Box on the other hand is not such a hit. The pulled chicken is a little dry, and even with the "Colombian sauce", the affair is a little too stodgy to get through. The smoked paprika chorizo is sultry but in small quantities. Sadly there seems to be a repetition of ingredients that, although enjoyable, gives a rather homogeneous feel to the food. Sweet fried plantain, red beans, guacamole, mini potatoes all keep marching across our paths, which gives very little variety.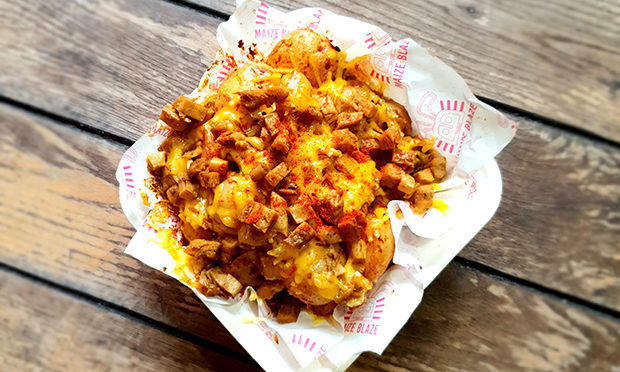 The Lean Mean Vegan Machine is the box's twin – nice for our herbivorous friends to be included. Although again, jackfruit crops up a lot and seems to be the only vegan heavy hitter.
The Jack Bap and Guacatarian are very similar, with the latter being a little sweeter. The loaded baps are carbs on carbs on carbs, so get ready to get messy! Without plates, you have to hover over the small, sad cardboard boxes, straining not to make a monster of yourself. Nevertheless, you sure get your money's worth as these baps are bursting forth.
We must not judge all food options by standard restaurant rules, and Maize Blaze is an example of the right food for the right occasion. The gooey, bean-filled dishes are great for snacking away in the depths of this charming brewery. The menu is a little unimaginative but a crowd-pleaser for anyone wanting to soak up the hops that Howling so happily produces.
The experience could be reexamined, as with white boxes and paper surrounding us, we feel very far away from a food court or festival and very much like we just snuck a takeaway into our local boozer.