Barbican Centre
'Marathon concert offers an eye-opening view of music and humanity'
Like the Noisettes song 24 hours, a lot can change in a day. We all have the same allocation (myself and Beyoncé, for example) but it's how you use them that counts.
That's why when I saw the Barbican was putting on a 24-hour concert starting last Saturday night, I thought 'Sure, do I have anything better going on?'
London Contemporary Orchestra is known (not so shockingly) for pushing boundaries, and this event has been in the making for five years. Like a cultural binge, the Netflix series of concerts, different acts fill the time, starting at 6pm on Saturday and finishing at 6pm on Sunday.
Sitting in the hall, my senses of competition and intrigue are peaked. How long will I last? Is this healthy? What other culturally-mad-cretins would even consider this? Should I be worried that 24 hours of my schedule was so expansively empty?
My fellow marathoners are divided thus: middle-aged and older music geeks of various descriptions, art school students in all their many bright hair colours and outstanding outfits, couples and myself.
The stage is set, the lights dim, there is a relative calm before the storm.
We kick things off with Michael Gordon's Rushes. Although "kicking" might be the wrong term for what follows. Seven bassoons stand in a tight circle of light, looking like alien creatures with tall black snouts crowding around a kill. The post-minimalist composer's piece is a slow-building of overlapping scales and fluting notes. A little repetitive but with a nice progression, this clanging work is lit (as is the whole affair) by the artist László Zsolt Bordos is projection mapping. Each piece is treated to its own themed abstract artwork, and Zsolt Bordos's talent is highlighted by the massive and heavily textured back wall of the hall. Like wind moving through rushes, the piece is a methodical if slow start to a very long evening/day.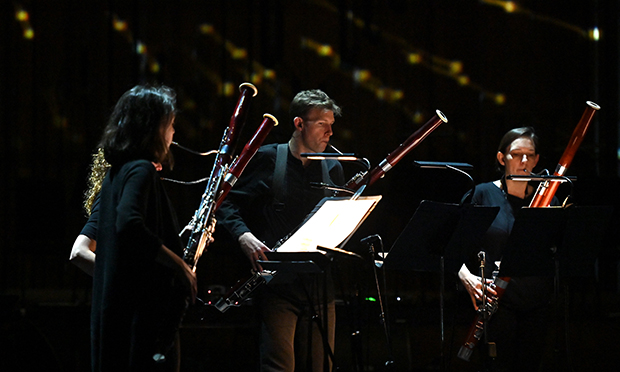 Rushes features seven bassoons. Photograph: Mark Allan
With a wide range of performances, both live and recorded, the experience is meant to offer an arching narrative and a chance for mental and physical wandering. People drop in and out, and the energy level rises and falls with the audience numbers.
Some highlights include KMRU, a Berlin-based ambient musician, DJing with the London Contemporary Orchestra. KMRU in the centre and the strings of the LCO on either side, this piece is three hours of blissful music. With kaleidoscopic colour bursting forth behind them, there is an impressive range and depth, which at times can be lacking in some other acts. Starting together, the dreamlike and ethereal nature of the string work is fitting with the alien landscape visuals. The whole piece feels like a mission into the darkest of space and the strangest of worlds. When, halfway through, KMRU is left alone for a solo section, the image of him surrounded by sleeping violins and cellos sticks with me. His blend of organic and synthetic sounds, jungle soundscapes, warping synths, all while amorphous alkaline clouds erupt behind him, lodge this collaboration in the mind.
Each piece is experimental in its way. Many are not what most people would call traditionally enjoyable to listen to, but looking back each was refreshing in its conception.
An example of this is James Tenney's Never Having Written a Note for Percussion. Three LCO musicians stand dramatically in front of three huge Tam Tams. What follows is frustratingly slow drumming, building from light and caressing towards a crescendo of savage banging on the metal surfaces and back again. Almost like musical foreplay, the concept is interesting, even if throughout I was itching to jump on stage and rush us to the obvious conclusion.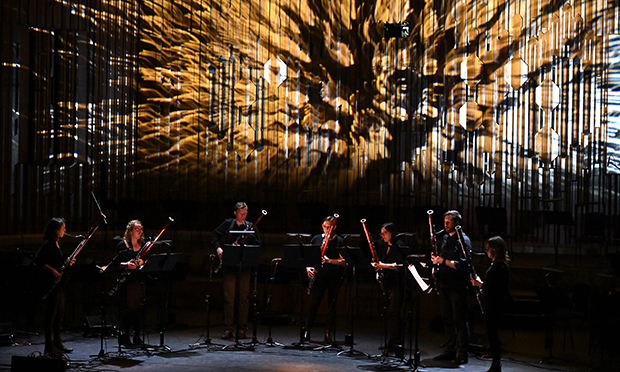 The LCO's concert creates a 'unique' space where 'self-discovery is possible'. Photograph: Mark Allan
Although 24 hours is a long time, some moments felt like filler. Galya Bisengalieva's Saǧat is played over the sound system to an empty stage. The lack of stage presence does give the audience a breather but feels a shame after the outstanding live electronic work of KMRU.
One of the most impressive feats of endurance is Morton Feldman's String Quartet No. 2. Feldman's ground-breaking, indeterminate music allows for performers to choose the parts of the piece they play and when, bringing an improvisational feel to the work. Like a horror movie soundtrack, an almost never-ending shriek of call and response dominates this tense and foreboding work. Considering that this piece is six hours long, the four string players should be proud of their stamina, even if overall it did feel a little stagnant.
Sadly, I only made it to hour 15. Éliane Radigue's Trilogie de la Mort killed me, ironically. Another recording with Zsolt Bordos's jumping projection in the background, the relentless electronic droning felt like torture and my tired brain could do no more. I longed for fresh air, sunlight, and my bed, and fled into the real world feeling just a tad defeated.
Yet the whole affair was an eye-opening view into not only music but also humanity. Why do we require music to always be easy, enjoyable, rhythmical, on time, and safe? I was oppressed by Radigue's drones and frustrated by Tenney's glacial build of drumming, but is that because I was relying on dusty ideas of rules that music should follow?
On the human side, the whole event felt like something conspiratorial, and the relaxed atmosphere of the theatre was so refreshing. People were on their phones, drifting in and out of sleep, legs put up on seats, beautiful art students curled up in balls like sleeping felines. The old rules of the theatre were dissolving as the hours went by, as the old rules of music were being eroded on stage.
After a year of feeling panicky about human interaction, Robert Ames and the LCO have created something unique, an utterly safe and relaxing space where rumination and self-discovery is possible. This utopia may have only lasted for 24 hours (or 15 in some people's cases) but the effects will ripple out in all that experienced it – after they have slept for about a week afterward, of course.