"Isolating but not isolated! We still connect, and we're still creative. Social diss dancing will attract attention. So let's start Breakin' Convention," says Jonzi D.
And with that, the 15th annual hip-hop festival kicks off – virtually, on YouTube.
Narrated as always by Jonzi D, MC, dancer, spoken word artist, and director (this time from his balcony), this festival champions youth, talent, and passion.
Having attended for the last three years, I was so overjoyed the festival was still going ahead in some form.
By using past footage curated by Jonzi D, the fire of this festival is undimmed by the current situation.
Straight into it we have Just Dance from South Korea. Mixing traditional masks and live drumming with modern interpretations of movement, this piece is as atmospheric as it is powerful, with a crescendo sure to get your blood pumping.
Next, a video explains the importance of Breakin' Convention's open ART surgery – see what they did there? – a wonderful program that gives people the chance to theatricalise their dreams, creating a new landscape for hip-hop and beyond.
The homegrown dance group UNITY catches my eye. Aggressive, passionate, at times a little clumsy yet full of energy. Interestingly, they focus on inward-facing formations, with fast hands and footwork creating an octagon of human connection.
Following this, we have a softer duet from Spain, SalesPlazaSocietas. The couple, in casual jeans and hoodies, battle with the intimacy of a relationship. The amount of support given, corporal dependency, and acrobatic prowess is beautiful to witness.
Another group piece explodes onto our screens, by P*fect from Sweden. It looks like a mix between roller derby and the musical Chicago. Sassy and sexy with a thumping soundtrack, the piece uses voguing, a style normally found in clubs or the ballroom – Paris is burning anyone? Glorious!
UK-based Bonetics are up next, with former Britain's Got Talent (BGT) competitor Shakirudeen Adewale Alade bringing contortionism out of the circus and onto the stage with an incredibly cool performance.
Two larger group pieces follow, and they couldn't be more contrasting.
Firstly, another BGT performer Theo 'Godson' Oloyade and his crew. Twisting in red light, clad in black clothes, this Krump piece is bursting with power and threat.
In antithesis to that, we have the Skeleton Movers from South Africa. Dressed in modern version of Zoot suits, the dancers give a playful and cheeky blend of contortionism and dance.
Solo sections, featuring interactions with their bucket hats, are mind-boggling and very funny.
When the festival invades Sadler's Wells, the interval is part of the experience – Jamaican food sizzles while rap and freestyle dance battles fill the cavernous space.
This year's virtual festival tries to recreate this. Sections of dance from Breakin' Convention's tour of the US, along with a wonderful piece by Popping Pete on the steps of a classic New York brownstone, underline the connectivity in the dance community.
A recording of MC Supernatural's amazing ability to rap about objects given to him by the audience is grounded by a sweet video of two young dancers explaining what dance means to them – be still my beating heart!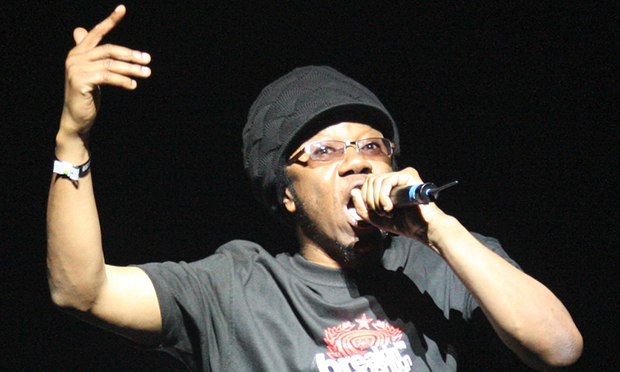 The second act is ground-breaking indeed. All the pieces are performed with The Jazz Re:freshed Sonic Orchestra, and Jason Yarde's score is astounding.
The skills of 15 amazing jazz musicians highlight the importance of dancing to live music.
Leaping on stage, the UK's Locksmiths dazzle in bright hues and boundless energy. Fresh and youthful, the group piece rings with optimism.
Jonzi D and Tanaya 'Ice' Martin bring a novel concept to the stage, with the former controlling the band's movement with his body while rapping a poignant piece about the contradictions of modern life, as 'Ice' Martin dances at his side.
This piece pushes the boundaries of music, spoken word, and dance. The minor chords of the orchestra blending with Jonzi D's harsh lyrical flow.
The Ruggeds from the Netherlands are up next – seven male dancers, experts in break dance, they groove to live beatboxing with sharp suit trouser, providing all the swagger and swing of b-boy at its best.
The final piece is by Boy Blue, founded by Michael 'Mikey J' Asante and Kenrick 'H2O' Sand in 2001. They encapsulate the love and ethos of the whole festival.
Boy Blue always makes an appearance at Breakin' Convention, and here the massive, youthful cast thunder across the stage, leaping, cavorting, and creating wonderful shapes in a tribal and emotive piece.
The finale sees MC Supernatural freestyle with all the acts featured in the second half, backed by the Sonic Orchestra.
The last image of talented people, working together, understanding, and reinventing their craft, stays with me into the evening.
Although the festival is very different this year, the same love, respect and connectivity is felt.
'Isolating but not isolated indeed', I think, as I dry my eyes and stand up to do the dishes.