'So delectable that they will be fighting people off with a stick'
As we scurry through the petite and stylish downstairs of The Gun pub and up a winding wooden staircase, anticipation is building.
Ling Ling's opens up before us – the hot new Asian fusion restaurant perching above this established East End boozer. The anticipation is completely satiated, but more on that later.
The long room culminates in a gorgeous balcony, perfect to gaze up at the darkening skies. Warm yourself by the space-heaters and mingle with the gregarious locals.
Nadia, dark bobbed hair and easy charm, explains the concept and gives recommendations; thus we commence.
Gazing down from our elevated height at the hoi polloi of Homerton, I think a cocktail is in order. One Old Fashioned that will blow your socks off and a pineapple Mezcal sour that tastes like it was birthed with its own phoenix.
The tiny kitsch blue plates clatter onto the rickety wooden benches, and the peals of raucous laughter fill the night air. Everything is so reasonably (dare I say, cheaply) priced that we go a little mad.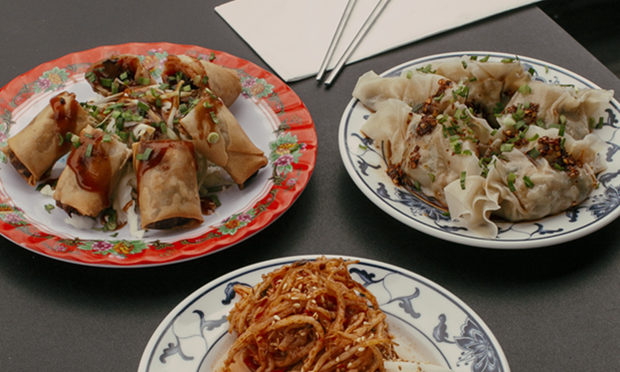 First arrives the leather skins of the Yukpo, Korean beef jerky, which keeps us masticating all evening. These massive slabs of flavour are well worth the jaw ache. Next up are Mum's spring rolls on a mounded bed of cabbage, drizzled with blood-red tonkatsu, which give a tart crunch. Then the Thai basil wontons (recommended by Nadia) live up to every expectation – slimy, seafood-filled showstoppers.
For mains, a half Gochujang cauliflower arrives looking like a marinated brain. We slice away at this organ of a vegetable with gusto and think it must be an unusual change for our herbivorous friends. The 'bb' chilli oil sauce and flakes of onion make the dish a warming smack to the mouth and a visual slap to the eyeballs. The crab katsu rice is a creamy diversion from the half-eaten vegetable cranium and should be ordered in tandem. Lastly, the Vietnamese pork chop, with fish dressing and a liberal salad has that unique ability of Asian cuisine to blend fish and meat with resounding success.
We polish ourselves off (culinarily speaking) with a lighter-than-air matcha white chocolate tiramisu. Sadly, it is the only dessert option, yet the pistachio green colour and floating texture belie any fears over a lack of choice.
A biting organic orange Baglio Antico skin contact wine wakes us up after our gorging and readies us for our tumble down the stairs, homeward.
Having only been open since 6 August, Jenny Phung and her partner James 'Shep' Shepherd are a flying duo – they were involved in the venue's previous restaurant, Satsu. Broad smiles twinkle as they explain their meeting, concept, and they show visible excitement at having a permanent home.
Not to jump The Gun (enter laugh), but with food this delectable, at prices this decent, they will be fighting people off with a stick.
If you like no-nonsense flavours, friendly service, and dining under the stars, book your table and allow the boisterous atmosphere of this feisty little restaurant charm you completely.