'A pleasant if not particularly original experience'
Dramatising the popular German fairytale by Johann Wolfgang von Goethe, new musical The Sorcerer's Apprentice has colour, magic, and sentimentality exploding around the screen. But do the flashes, fire, and saturated lighting constitute an effect musical?
The story heavily fleshes out Goethe's poem, recontextualising it (if rather poorly) to the mythical, Nordic world of Midgard, roughly at the beginning of the industrial revolution.
Join Eva (played by Mary Moore) as the willful daughter and apprentice of golden-voiced magician Johan (David Thaxton) in a rather predictable greed-is-bad, love-is-good battle against the depletion of the magical resource in the sky, the Aurora.
Those with offspring will find this experience a tad long at over two hours, but hopefully enjoyable.
The bright and shifting colors of Clancy Flynn's lighting blends with the appropriately melodramatic cartoonish characters.
The personal story arcs are easy to follow and the songs are, if not catchy, certainly bouncy. But for the adults along for the ride, or musical theatre enthusiasts like myself, there are a few issues that arise throughout the show.
Firstly, the attempt at a living, breathing Disney musical without the budget and Hollywood gleam to make the experience bearable, is unsuccessful.
The shared tropes are many, including but not limited to: a dead but perfect mother; instant and powerful heterosexual romance between teenagers; and a song by an evil mother which is worryingly similar to 'Mother Knows Best' from the film Tangled.
Top this sugar-filled cupcake off with gooey family drama and an overarching message of love/family saves the day and there you have it: Tinseltown comes to Southwark.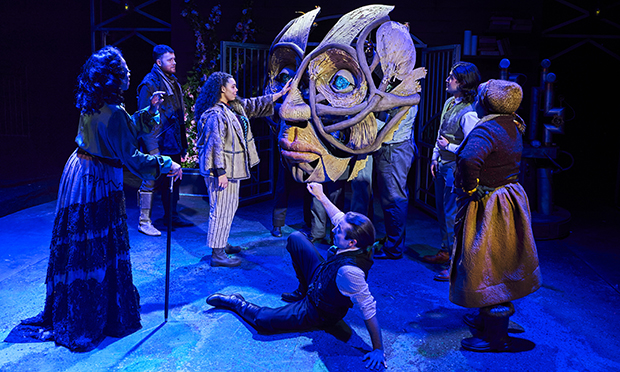 But, I hear you cry, 'Isn't this based on a section from the 1940 film Fantasia?' The answer is a complex one, but thank you for bringing that up, dear reader. Despite having stark similarity to the broom scene from the film, 'L'apprenti sorcier' by composer Paul Dukas is nowhere to be heard – presumably due to licensing issues?
Ben Morales Frost's score is just not up to the task of imitating or rivalling Dukas, and this scene is therefore missing an important component. If legal issues are the reason that those involved in this production have had to tread very carefully around the film, why try and ride on its coattails? You're only going to disappoint viewers. There are, after all, plenty of new tales to be told out in the big wide world.
Despite the clumpy script, some actors manage to breathe life and comedy into the roles. Marc Pickering as the lily-livered baddy is the comic relief the musical sorely needs. As his green-attired (automatic evil in the Disney rulebook) mother, Dawn Hope has a melodious voice, even if her movements are overly villainous. Love interest Yazdan Qafouri's voice is sublime, although his character is a touch two-dimensional. Disappointingly, Moore, although possessing some impressive pipes, fails to be a convincing 17-year-old. Thaxton, as her father, similarly sings like a songbird, yet together their family dynamic, so integral to the story, feels flat and forced.
Richard Hough's songs are all about strength. Some, such as 'Let There Be Light', have a catchy hook, but others regurgitate tired concepts of musicals and children's films without much flare. Overall, the lack of an overture or repeated melody that stays in the mind doesn't help one recollect the experience afterward.
Nevertheless, this is a bright and energetic riot that might stop your children from attacking your new kitchen with sharpies, if only for two hours. It's visually pleasing, with imaginative use of camera angles and old theatre magic aplenty, along with a beautiful giant face made out of brooms (thank you Maia Kirkman-Richards).
This is a pleasant if not particularly original experience, well executed by the creatives involved. Steven Harris's choreography keeps us watching and Charlotte Westenra's direction allows for the action and song to create a cohesive story.
In the blurb, the show is described as being suitable for ages eight and over, but I would add that it's probably not for anyone over the age of 13. It is filled with, yet also relies on, a child's almost limitless capacity for wonder.