'Long live the queen of folk!'
We are reminded of the genre's unique place in our history, and of its soft, sad, and sweet ability to capture the experience of life. Collins is led out, clad in linen, looking like some delicate and beautiful bird.
Sat in a semi-circle, the Lodestar Band look every inch the folks you would see playing down the local pub on Friday evening, all beaming grins and kind eyes. The septet is completed by lone Morris dancer Glenn Redman.
Lovely personal anecdotes from Collins and titbits of folk history from band member Pip Barnes (along with some rather unnecessary readings in regional accents) break up the evening, reminding us of the genre's historic pedigree.
Collins' life and musical history are fascinating, from her grand tour of America with Alan Lomax in 1959 to her long hiatus from music due to a vocal injury. This evening is to celebrate her long-awaited return and her most recent album Heart's Ease.
Her voice has of course changed over her many years in the business but has taken on a richer, wiser quality informed by a life lived. Collins infuses experience into every song. As someone just discovering her music (having not been even a sprinkle in my mother's eye in the singer's heyday) I prefer this life-worn, more real, and equally beautiful sound.
Overall, the evening is pretty much like any gig, just with larger gaps between the musicians. The use of a large screen is rather unneeded and almost breaks the spell of this intimate experience. There are photomontages, and for one song a rather lovely animation by Layla Atkinson. Although this is engaging, it distracts from the actual performers (being set just to the right of the stage). Folk has never needed embellishment and surely Redman's belled cavorting fills that role?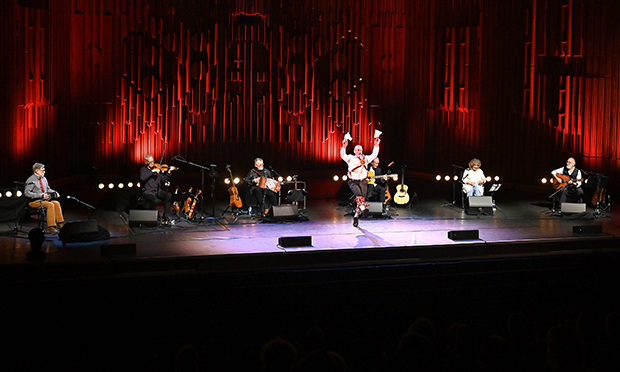 Songs that resonate the most are of course the classic, 'Barbara Allen', a folk staple and wrapped in wistful pain. 'The Rich Irish Lady' has a nice thumping energy to it, with everyone joining in for a slightly shaky but rousing harmony. 'Rolling in the Dew' is another classic song about seducing a milkmaid, not quite so apt to modern life but very folky.
'Sweet Greens and Blues' is one of the rare songs that are not rooted in rural or pastoral life, written by Austin John Marshall (her then-husband) about living in London with two small children. When asked what the title or chorus means, Collins responds as she always does: "What does it mean? Whatever you want it to."
Pete Cooper's stunning fiddle-playing and Kentucky folk song is a gift. Dave Arthur on the spoons is a personal highlight, along with a magic beatbox, or shruti box, which I am sure is a folk staple but to me was an exhilarating first time.
Ian Kearey as musical director is quiet but gifted on the guitar, and his rendition of the first post-modern cowboy song is something special. Finishing off with John Watcham on a tiny but spirited anglo concertina, we have some talented fellas!
From prayer songs to pirate songs, we travel with Collins and the band from the deep south in the US to the deepish south in the UK (Sussex). We hear songs about the sea from people who had never seen it, songs resurrected by folk historians, songs of sadness, and songs celebrating the changing of the year. Throughout, we hear the sweet chuckles of Collins and visible excitement writ large on the faces of the audience.
Folk as a genre can be gloriously backward-looking. Old England or the misty past of the Appalachia is celebrated, even when it is slowly disappearing or never existed in the first place. This explains the sadness inherent in the music (and the reason I love it) as it is constantly slipping out of one's hands. Songbooks destroyed in tornadoes, or soaring songs lost to creeping industrialisation.
It is (mainly) songs of the past, but hopefully, with Collins back on the scene, it can have an even more glorious future. Long live the queen of folk!