Surreptitiously perched on the corner of Blackstock Road is the little French gem, Maison Patron.
Dinky and delightful, this slice of Paris in north London bustles after its long closure during the coronavirus lockdown, ready to charm once more.
Diners brave a chilly summer evening on a couple of outside tables, but thankfully myself and my plus-one billow through into the snug interior.
The chic space is full of lovely details, from the white marble tables to the gloriously distressed wallpaper – more faded chateau than stuffy brasserie. Lights like glass jellyfish fall from the ceiling, and a very fashionable grey tone pervades the space.
We snuggle in a small booth and look around at our fellow diners, each group sequestered off in there own little stylish, Covid-secure bubbles.
We are greeted by my French namesake Gabriel, and the evening is off to a roaring start. A cracking amaretto sour is polished off by yours truly and my guest's French Martini is delightful (as expected).
Joy dramatically morphs to slight confusion as, despite there being vegetarian starters (veganism is apparently a step too far), there is no vegetarian option among the three mains.
My guest's face flushes with the classic British confusion of having to ask a reasonable question of a waiter. We are told cheerfully by Gabriel-2 that you can effectively supersize (not a very French concept) one of the starters and all is well in the little restaurant – unless you're vegan, of course.
I kick off the evening in carnivorous fashion and decimate a small community of molluscs – the escargot (helpfully called Burgundy snails for the less metropolitan among us) are garlic heaven.
Helpfully, my dining partner's Patron peppers nicely mirror this with their salty bodies. A glutinous start to the evening all round!
We ask Gabriel-B for drink recommendations for our mains, but of course, we are both incurably difficult people and neither of us drink red wine (I know, shoot me).
Dealing with our predilections admirably, we get two (very full) glasses of Pays d'oc Igp, Domaine de Luc 2019, a delightful sauvignon.
Like little bulbs of light reflecting the warm orange glow of the lamps, the small glasses are refilled readily and the wine pairs exquisitely with food.
On to the mains. Like a tale of two cities, our opposing dishes land gently onto the table.
The wild mushroom toast is much more than just, you know, mushrooms on toast. The exotic selection of species, garlic (again) shallots, a sinful amount of cream and Granna Padano shavings. A rich, almost sensual experience.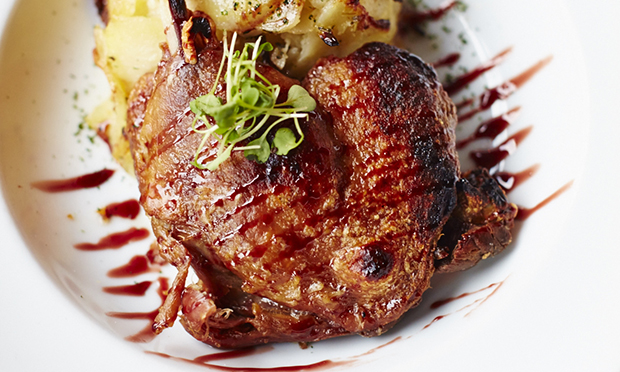 On the other side of the dining fence, we have my slow-cooked duck confit. An old favourite. All the way from the south of France and with a splendid red wine reduction (I won't drink it from a glass but in a reduction, lord help me). Without a doubt one of the best I've had in the city. Crispy yet tender, this is one well-cooked canard.
Accompanied by a veg of the day with a tangy vinaigrette and truffle fries dipped in a homemade truffle sauce, we are nearing the region of full.
I have the creeping feeling that my guest might just bloom into one large mushroom by the end of the evening, and my belt is notably tighter than when I first arrived. But no, dessert! And like my mother always said, it's a different stomach for dessert.
Gabriel-deux wheels around with a cooking bowl and dollops out the biggest spoonful of chocolate mousse on the plate. The joy of the gesture and the link to real cooking by real people produces a laugh from the restaurant and glee from us both.
My figs four ways is a little more artistically presented but equally magical. The three of us try to deduce what the four ways were as I slowly demolish the dish.
The fig cream I would happily bathe in, the crumble gives a little texture and bite, and the addition of port gives the dish that all-important boozy kick. The last fig incarnation is a sweet thin rolled sheet. Whatever it's called, and however you want to divide it up, this dish is a wonder.
Despite the slightly frantic nature of the service, Gabriel-zwei makes time to chat about the restaurant's history.
Blackstock Road is the second branch, following on from the popular Kentish Town flagship, and opened on 10 March for a week, before coronavirus forced it to close. Tanzi and Jean-François started the business as a labour of love in 2015. Their passion for good food and wine is so clearly felt in the petite space, and the enchanting atmosphere is infectious (no pun intended).
For a lovely evening spent bathing in garlic and wine, smiling at one another in flattering lights and feeling truly a la mode, I have a pretty good recommendation. Maison Patron!