'Inventive grub that doesn't hurt the planet'
With trepidation in our hearts and mask strapped across our faces, we journey through the slowly re-filling city to Homerton – my partner, myself and our pup (she was maskless).
Being the first restaurant we have been to since it-that-must-not-be-named spoilt everything months ago, I wasn't sure if vegan pizza was the thing I wanted to usher this new world in with. How wrong I was!
Holding back the tears as we were greeted by friendly staff, and being able to aim them quietly into my Pornstar Martini, we relaxed, surveying the scene.
The Plough, which relaunched under new ownership in 2019 after being empty for two years, has kept a lot of its period charm, from delicate chandeliers to lovely Victorian green tile work – a true sucker for some good tiles here.
The atmosphere is surprisingly calm considering, and the large windows and open door create the airy feeling of dining in a courtyard, but inside.
Casual and carefree are the words that spring to mind as the cocktail trickled through my system, providing that welcome boost of dopamine. Bring on the veg!
The details are delightful. Pink-rimmed menus fit the 1960s vibe of the pub, and a vase filled with meadowsweet lightly perfumes the table as we settle in for an evening of good grub, far away from the bustle and ignominy of Pizza Hut.
As sports (my favourite) quietly dance on the TV screens, the vegan pizza sits a touch uncomfortably within the classical pub setting, but this proves just how mainstream conscious eating has become.
This is a chilled date-night venue, not so much for a 50th anniversary, but for a Friday evening in the warm summer night, it couldn't be better.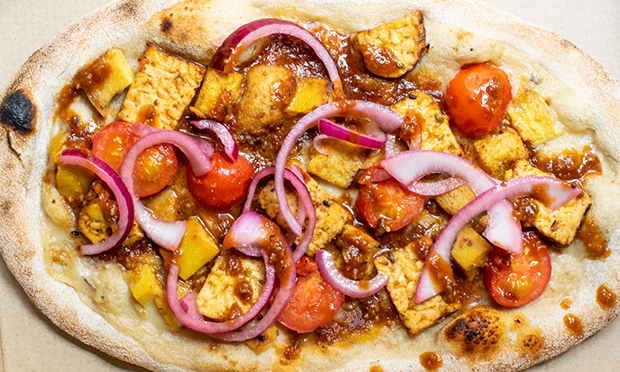 First out is the Virtual Meat Feast for my partner – I may have aggressively shared this one. A vegan delight certainly not lacking in meatiness, this surprisingly carnivorous option avoids all the oil and stodge of the real deal. One for the sceptics perhaps?
Roasted tempeh and chickpea tofu soak up the BBQ glaze, and cherry tomatoes and red onion give the classic pizza a grounding.
On my side is a controversial Kimchi Fiorentina. As a lover of this Korean fermented cabbage, I was intrigued by how this would work on a pizza.
Although the flavours were certainly intense and inventive, the texture was on the slimy side. The addition of a cooked Cacklebean egg that exploded into gooey goodness echoes this Korean element wonderfully.
Overall I would recommend this dish for the brave of heart and palette.
With Crust Dippers that keep the out-of-the-box flavours coming, we scrapped, dunked and dived into kimchi mayo (to die for), beetroot hummus (devilish) and a garlic mayo (delectable) – 100 per cent vegan and 100 per cent delicious.
Finishing off the evening with another Pornstar Martini (don't mind if I do) and a Pina Colada, we had two brownies from Cake or Death, a local vegan confectioners in Dalston. Rich, riotous and indulgent.
With the pub only having re-opened last Saturday, Flat Earth founder Sarah explains their journey and the impressive philosophy behind the grub.
She and partner Rich (slaving away in the kitchen) started the concept in July 2019 in a wine bar in Bethnal Green, but moved to their current local just before lockdown.
Using seasonally available produce, their pride in their concept is infectious. The dough is made from Gilchester's organic heritage grain flour and topped with fermented vegetables from a farm in Dagenham.
From foraging in Essex to now offering takeaways, this is a business with its finger on the pulse of 20th-century diners.
As if this wasn't enough, the duo are also working hard to reduce their food waste, creating the aforementioned Crust Dippers out of the unused tops and tails of the vegetables. It's impressive.
A zero-landfill policy and feeding energy back into the national grid is the crowning glory, and an evening out on the town has never been more progressive and utterly enjoyable.
Vegan cooking forces you to reevaluate the old and tired way of cooking classics and come up with something fresh and unconventional.
Riding the vegan/vegetarian revolution into the future, Flat Earth Pizza is about making amazing culinary choices that don't hurt the planet.
And who doesn't want a guilt-free evening of astounding food?