'A cornucopia of flavour, fun and sustainable frolicking'
What lies within is a cornucopia of flavour, fun, and sustainable frolicking. Turmeric and pumpkin shades and a pot-plant-heavy interior remind me of my mum's trendy but distinctly 70s living room.
Kimchi seems to be an obsession for Chantelle Nicholson and her team, with a focus on zero waste and British-grown produce (and a whole lot of pickling).
Two blood-red Bloody Marys with the all-important kimchi kick arrive, a gorgeous savoury drop.
Four dishes per person are recommended for us because the terminology is a touch esoteric. What in the world is a smacked cucumber when it's at home?
Four Maldon oysters are a refreshing start to any meal, like a salty coffee they perk and prime one for the upcoming gluttony. Yet All's Well has a twist for even the simplest dish. After partnering with a local brewery, the chefs use the leftovers from the beer-making process to make a shallot and Gris-Gris vinegar with a distinctly hoppy aftertaste. Add a hot sauce that has been fermenting for a month, and these are some fancy bivalves.
Next, a trio of smaller dishes dance onto our table. The last of the season's asparagus (have you ever heard anything more mournful?) in cashew cream and baked lemon jam – indulgent with the sharp crunch of the perfectly cooked asparagus. Kimchi fritters are disappointingly similar to onion bhajis, yet with a lovely dipping sauce of spring onion mayo. The tempura spring onions, crispy thin daggers of light veg with a heart-warming tomato emulsion, again give a nice musical crunch that reverberates through your skull.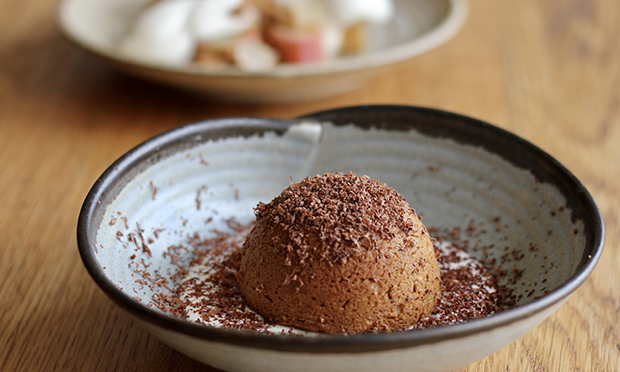 So far every dish sits cradled in its own little ceramic bowl looking almost too pretty to eat. This ends with a miso-roasted cabbage that, although tasty, looks very much like a cooked dead crow. The crunchiness and wing-like feathery fronts of the cabbage do not help this image. Nevertheless, with dobs of miso aioli, pickled shallots and a dusting of pumpkin seeds, this dish is a vegan carcass to get stuck into.
The unsung hero is the veal and nduja dumplings. In a broth that tastes like a secret family recipe sit four dumplings – each a meat-filled boat of heavenly flavour.
Our final main arrives – the lamb ribs with, you've guessed it, kimchi. These are a little fatty for my taste and rather aggressively chargrilled (dare I say burnt?). However, the roasted Jersey Royals more than make up for this, with a tahini dressing giving a luxury Moroccan creaminess to the little balls of carby joy.
Tahini makes another appearance in one of our desserts, a dark chocolate sesame pudding that is rich, deep, and dangerous. The other, Newlands Farm strawberries, basil, cream and meringue, brings up images of skipping through a cornflower field in a linen dress.
Sadly this charming little spot has a limited shelf life so rush on down! It moves on at the end of August.
In a world where we are rapidly burning, shooting, and polluting everything we touch, it can seem impossible to do good. But All's Well's sustainable approach to food and the planet has made it possible to have a delicious evening without causing a sixth mass extinction.
Many restaurants could learn from this, and if they do, maybe all would indeed be well.