The Pleasure Garden
---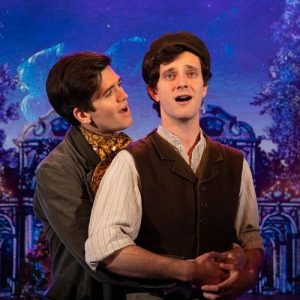 Above the Stag
Lured in with the promise of an evening of naughtiness under the acacias, Above the Stag's all-singing all-dancing musical erupts onto the stage. Amidst the petticoats, twiddling mustachios, and frock coats, a missed opportunity lies hidden beneath the foliage.
Taking a stroll through the gardens before the show, the change is almost unbelievable. The plain little park used to bustle with London's elite, fireworks, promenades, bandstand, and restaurant. All is gone and London's most fabulous set has shifted a couple of meters over to the arches. Yet for one night only we are invited to meet lovestruck gardeners, lords, hermits, and princesses.
Despite a few integral issues some actors struggle on with great pluck. Rory-Charlie Campbell as the seedy Lord Roger Lovelock encapsulates all the comedy that could have been highlighted more within the piece. Lines such as "Sodomy isn't something you just give up" and the constant back and forth with his frustrated wife is comedy gold. Ashleigh Harvey as Lady Lovelock has a clear singing voice and forceful sensuality in spades.
Her proposition of Captain Antrobus in a balloon ride is a literal and comedic high pinnacle for Act I. Benjamin Wong/Bea Amora Wong as Princess Saura (possibly based on the real-life of Princess Seraphina, Britain's first officially mentioned drag queen, 1732), has a delicate stage presence and an impressive vocal vibrato. Jennie Jacobs as Captain Antrobus again has a wonderful male firmness. Both deal with the complexity of their characters navigating the strict gender norms of 18th century Britain admirably.
Furthermore, the creatives involved work incredibly hard to breathe life into the concept. Fenton Gray's blocking works well within the limited space and David Shields' set and costumes are fitting, delicate, and detailed. George Reeve's videography spattered across a couple of large screens sets the scene beautifully, transporting us from Vauxhall to Sebastopol easily. Certainly a visual if not thematic success.
Staging a queer exploration of the gardens is obviously tempting considering the locality of the theatre. Sadly, Glenn Chandler's story and Charles Miller's music only manage to produce an overly slushy sentimental love story, with the classic heart versus head choice for the protagonist.
Like many-a-musical from the 1930/40s (Me and My Girl, with a splash of Top Hat) the only difference is that the sweet female ingénue is supplanted with a boy. This musical's heteronormative storyline is weighed down by clumsy songwriting with an over-reliance on the dreaded rhyme. Chandler does have some skill when it comes to comic songs, with some nice shots of bawdy humour peaking through the goo.
Yet the plot as it stands makes very little sense. The choice of killing off the two cross-dressing characters, while keeping alive the monogamous leads make us question who is allowed a happy ending. Ultimately, we just don't believe that this is 18th century London. Although classes did mix and blend in the gardens, they were unlikely to create a cross-class friendship group that happens to congregate whenever something momentous happens (as if summoned by 21st-century technology). The attempt to wring emotional clout out of the subject matter sadly leaves many a dry eye in the audience.
Disappointingly there are some performance casualties to boot. Jay Worley and Sam Baumal as the star-crossed lovers have lovely singing voices yet a tendency to overact. The fact that each character only has one driving motivation can be laid at the feet of the script. Steve Watts as the almost-narrator Hermit also fails to charm.
Overall, despite some hard work both on and off stage, an opportunity is missed with The Pleasure Garden. Queer theatre should be a bastion of exploring unsung and unusual realities. Doubling down on the bawdy comedy could have produced a spirited sexual romp and an amusing experience.
Undeniably the 18th century was a hellish time for queer people but within that, there must have been moments of beauty (hidden from view in the shrubbery for example). Although an attempt to craft a serious musical around these snatched moments is valiant, the foundation of the piece needs to be shored up before the concept can truly waltz into the moonlight.