Northern ballet- Dangerous Liaisons
---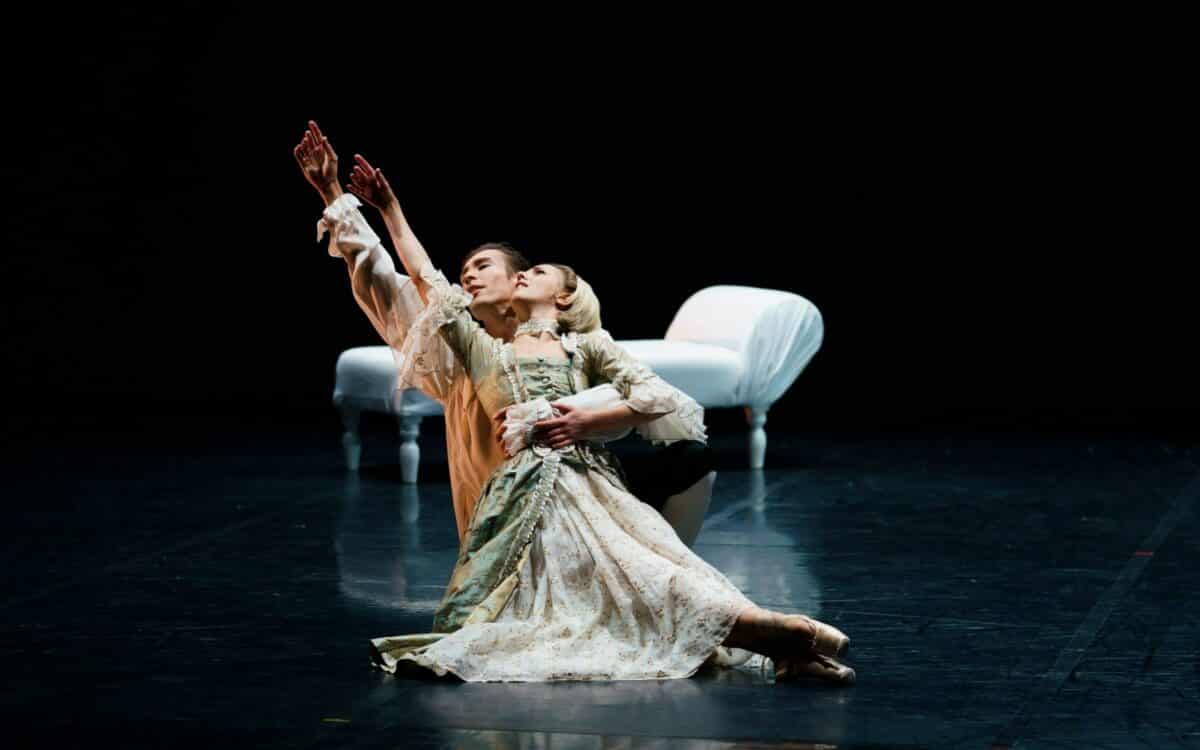 Sadlers Wells, stage review:
Sex, scandal, 18th-century court-life, and an unfathomable amount of letter writing. The Northern Ballet's adaptation of Pierre Choderlos de Laclos Novel is precisely what you would expect and not a step more.
Greeted by one of the most minimal "period" interiors I have ever seen the luxury of the 1988 film is already a far cry away. David Nixon (Choreographer, artistic director, and costume designer) tries to compensate visually with some stunningly elaborate costumes, and oversized chandeliers that descend slowly from the ceiling.
The story is rife with danger? and liaising? Following two devious characters, Marquise Isabelle de Merteuil (played by Glen Close in the film) and Vicomte Sébastien de Valmont (John Malkovich) as in their battle for dominance they destroy the innocent Madame Marie de Tourvel (Michelle Pfeiffer). The story is almost like an antithesis to Victor Hugos Les Misérables (without the singing or impressive set of the musical) as bored and sexually frustrated aristocrats frolic in pre-revolutionary Paris.
Abigail Prudames best captures the power and cruelty of the Marquise de Merteuil. It's the character's wiry strength and powerful sexuality which is so refreshing in both book, film, and now ballet. Her nemesis and ultimate frenemy is danced with equally dashing vigour by Joseph Taylor. As the immoral, Casanova Vicomte de Valmont his constant seeking of pleasure at the cost of others and unending thirst is transmitted effectively by his expansive and sensual movements. Antoinette Brooks-Daw as the virginal Madame de Tourvel is all sweetness and crushed purity but is outdone by the principal and lead soloists (Prudames and Taylor) mainly due to their characterisation.
Bizarrely there is a "break" which unlike an interval is meant to be experienced sat down, as a screen appears and the Northern Ballet tries to hawk their next show to the audience. Advert breaks? In Sadlers Wells? Along with an interview with dancers of Swan Lake (a show we are not currently watching), the reason for this is unclear, although most likely linked to the dreaded C-word (covid). This is an ineffective distraction from the story, and surely trimming 15 minutes off the runtime might have been a better idea?
Despite some lovely lifting, and spirited attempts at balletic sex scenes the beautiful choreography cannot hide a rather lacklustre overall effect. Alastair West's lights are repetitive and unimaginative, and without much set, the dances spin rings around each other without much reason to do so. Also considering the wide range of physical storytelling available to these gifted dancers the amount of "frantic gesticulating", looking like thin, very graceful mimes is rather disappointing. The evening picks up in the second act though, as the stakes are heightened the passion and intensity of the dancers are felt more sharply.
Ballet has such a chance to enrich a story, cutting away the superfluous dialogue and speaking to what is at the core of the tale. Although the Northern Ballet Sinfonia excels with Antonio Vivaldi's Baroque masterpieces throughout and the dancers pull off some gymnastic Pas de deux something is missing. Maybe it's the book's sense of whispering gossip or the film's gilded filigree? Whatever it is I never felt transported out of the theatre, and sadly the glittering world of 18th Century France feels just as far away as ever.